Flanked by proud family and friends, Saltus Grammar School student Rakeem DeShields signed his Letter of Intent committing himself to attend Anderson University in South Carolina as a student-athlete.
The Somerset Eagles player and Bermuda International said, "It is indeed an honor to be signing this Letter of Intent and I hope that I can encourage other Bermudians to do the same."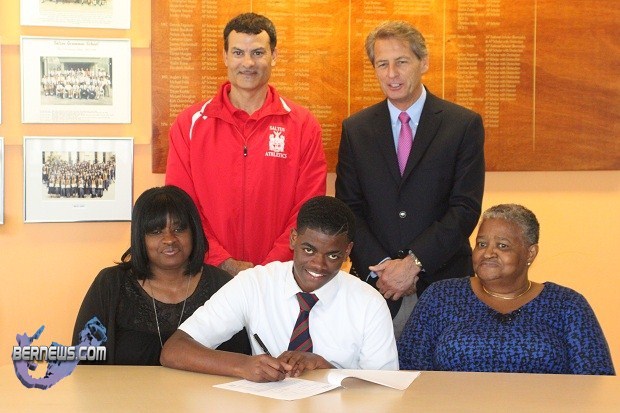 In 2007, Rakeem was part of a Bermuda National Under/13 Team that competed in the Dr. Pepper XXVIII Dallas Cup in Dallas that finished 4th in Bracket D of the Under 14 Division.
Rakeem was also a member of the Bermuda Under 14 National Team that finished in third place in Switzerland to coincide with the 2007 FIFA Congress, and in earlier this year he represent Bermuda at the Under/20 World Cup Qualifiers in Suriname.
Anderson University is a NCAA Division II school located in Anderson, South Carolina. The men's soccer team participates in the South Atlantic Conference and was ranked 17th Nationally this past season with an overall record of 15-6-2 and a SAC conference record of 6-3.
Read More About