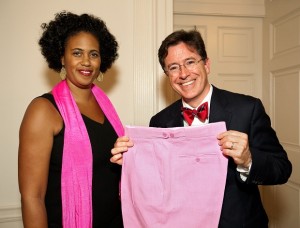 As the seventh day of racing dawned this morning [May 27] in the 777-mile Charleston Bermuda contest, one boat is well out front, five contestants have retired — and self-proclaimed "world's greatest sailor" Stephen Colbert is likely to be denied victory not by Armageddon but light winds.
Because of almost windless conditions west of Bermuda, five yachts are now travelling under engine power to the island.
According to race director Bjorn Johnson, "these boats basically got caught in the high pressure ridge that traversed the race course and they couldn't punch through". He said that due to that ridge, the wind conditions were extremely light over much of the course.
One-time favourite Vladimir Zinchenko's Shipman 63 "Yanosha" is among the boats which has retired.
Meanwhile, at the head of the fleet, the Charleston-based crew on board the Shipman 63 "Tucana" has been distancing itself from the other competitors by diligently pursuing a more southerly route.
As of 8:00 a.m. Bermuda time, they held a 40-mile margin over their rivals on board the other OnDeck Farr 65, Stephen Colbert and his crew on the "Spirit of Juno", which had been leading the fleet earlier this week before the winds diminished. TV comedian Mr. Colbert is photographed at top before the start of the race with a pair of Bermuda shorts presented to him by the Department of Tourism's Karin Darrell as a good luck token.
"Tucana" seems to be a solid bet to win first-to-finish honors as well as first place in the Racing Division.
In the Cruising Division, Rob Turkewitz's team on board his Cherubini 44 "First Light", held the lead though they were positioned at the rear of the fleet, well north of the rhumbline, steering a northeasterly course and making just two and a half knots.
"First Light" was closely pursuing Bernie Schapiro's Beneteau 411 "Pied-a-Mer."
Just two boats remain as active competitors in the Doublehanded Division. David Skidmore's Morgan Out Island 41 "Eagles Wings" is 212 miles out from Bermuda, steering a northerly course at under two and a half knots. And Noel Sterrett's J/130 "Solarus", the other doublehanded entry still competing, was 155 miles out this morning, averaging over five knots.
Race director Mr. Johnson commented, "We are expecting 'Tucana' to arrive late this afternoon followed by 'Juno' several hours later."
Read More About