The Bermuda Sub Aqua Club [BSAC] celebrates its 40th anniversary with a cocktail party and dinner this weekend.
Over the years, the club has taught hundreds how to dive and taken part in projects to enhance appreciation of Bermuda's natural environment.
BSAC was formed in the summer of 1971, in affiliation with the British Sub-Aqua Club — the biggest dive club in the world. The inaugural meeting was held on July 20, 1971, and three years later the club acquired its clubhouse — the pink building at Admiralty Park, Pembroke. The photo below shows a group of Bermuda divers in the 1970s.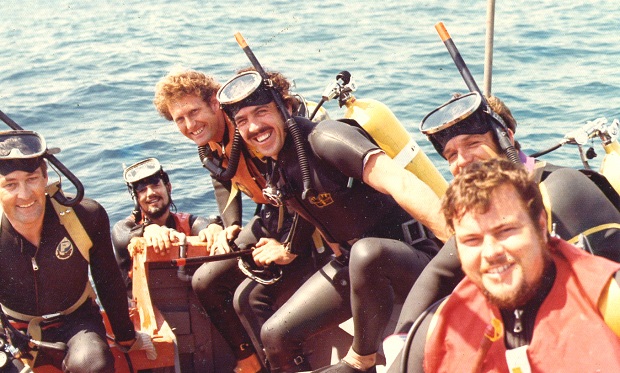 Members initially met at chairman Ray Scott's home on Corkscrew Hill, then Whites Island and the National Stadium. Since its foundation the club has offered a range of British Sub-Aqua Club training courses and skills development, from beginners right up to advanced divers.
The Bermuda Sub-Aqua Club is a registered charity and all the lessons are given by qualified instructor volunteers.These club members give up their time voluntarily to teach others how to dive. Beginners are taught in the shallow, sheltered bay of Clarence Cove.
Anyone over-18 can join BSAC. You pay an annual membership fee which includes all the benefits of being a member of the British Sub-Aqua Club.
Members receive the monthly 'Dive' magazine and can get free tank refills from the club's compressor. The club also welcomes social members, for a minimal fee. Dives are arranged every weekend, with the most popular sites being shore dives from Elbow Beach, John Smith's Bay, Warwick Long Bay and Devonshire Bay.
Members with boats also visit dive sites around the island. Last year the club organized 97 dives at 40 different sites. The club also arranges an annual diving excursion, where members spend the weekend at Darrell's or Paget Island.
This year, some members also visited Cozumel in Mexico for a week's diving vacation. The photo below was taken in June 2011, showing a group of members with the Bermuda flag in Cozumel, Mexico.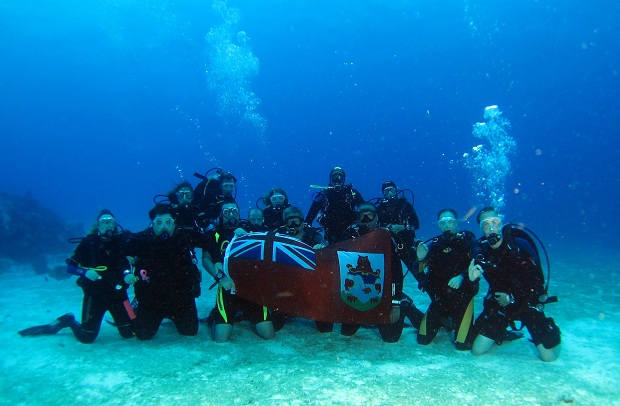 BSAC members are also active in the conservation of the island's marine environment, taking part in community clean-ups such as those organized by Keep Bermuda Beautiful. Members are involved in the REEF project, which monitors fish numbers and species in Bermuda's waters. Some are also licensed to remove lionfish.
Two BSAC members are also assisting Dr Tom Iliffe with his research and mapping of Bermuda's cave system. The club has helped to install moorings at dive sites to reduce reef damage from boat anchors.
It also helped with the sinking of the Sea Venture and Xing Da, now popular dive sites. Socially, the club also has an active calendar. Every Wednesday is social night at the clubhouse.
From Halloween pumpkin carving to diving for Easter 'eggs' and the Christmas Day Elbow Beach champagne dive, members also celebrate seasonal events underwater. There is a summer sunset boat cruise and an annual Christmas dinner.
The club also screen films and documentaries on the marine environment, and invites speakers from the world of conservation and exploration. BSAC currently has more than 100 members but is keen to encourage more people to learn how to dive.
This Saturday BSAC celebrates its 40th Anniversary with cocktails and dinner. Cocktails, courtesy of Gosling's, will be served from 6:30pm followed by dinner at the clubhouse from 8:30pm. Tickets are $40, available from Coral Dakin at coral.dakin@conyersdill.com. Call 232-6573 or 298-7819.
Members meet every Wednesday at 7:30pm at the clubhouse, if you would like to learn more about the fun activities on offer. For more information visit  www.bsac.bm.
Read More About
Category: All, Environment