Mark Hatherly continued the winning ways of Team Winner's Edge to win race two of the IBC Criterium series holding off Brian Drea of Team Madison and Damian Sharp of Team Fast Forward Bicycle Works this past weekend [June 25/26]. It is his first win of the season.
Adult B race riders: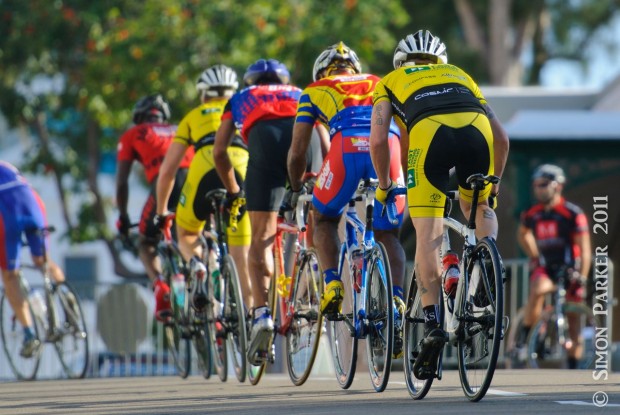 Riders tackled a gruelling 550-meter course that took in one city block. The course started and finished on Reid Street at Rock Island Coffee, headed down Burnaby Hill, east on Front Street, back up Parliament Street and left on Reid Street. Described by some as a "meat grinder" and the "hardest course of the year," riders were lapping the course in well under a minute racking up close to 60 laps during the 45-minute race.
Ian Port of Team Fast Forward Bicycle Works: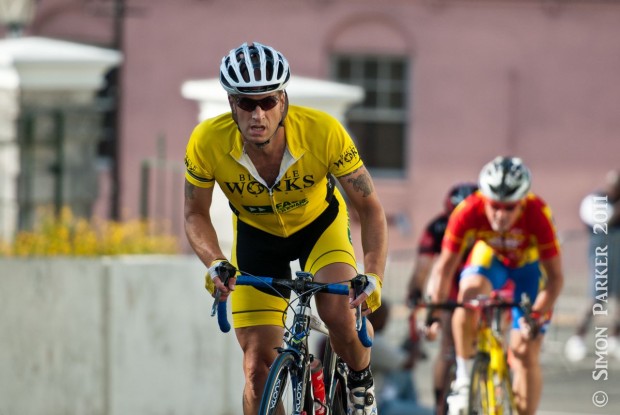 The A race got underway to a cracking start with teams pushing the pace from the gun in an effort to neutralize attacks and to break the will of riders not fit enough to maintain the torrid pace. The first casualty of the day was Chris Faria, the second place finisher in last week's, Road Race Championship, when he ran wide on lap one coming off of Burnaby Hill and hit a fence, writing off his bike and sending him to the hospital for x-rays.
Junior Mark Godfrey leads the A race up Parliament Street: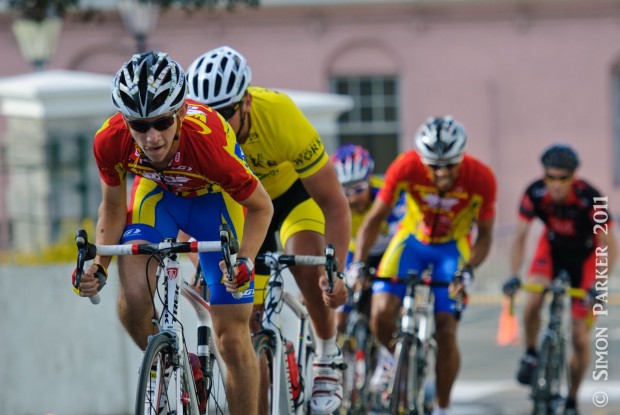 When the race settled down after ten laps, most of Team Winner's Edge was off the back. By the end of the race three Fast Forward Bicycle Works riders and three Madison riders remained with Hatherly the only Winner's Edge rider. With the advantage of the two other teams working against each other the former hill climb champion bided his time and attacked on the final approach to the line taking a hard earned win.
After two races in the five-race IBC series Mark Hatherly is leading the A category ahead of Damian Sharp and Andrew Steel.
Mark Hatherly, Team Winner's Edge, leads down Front Street: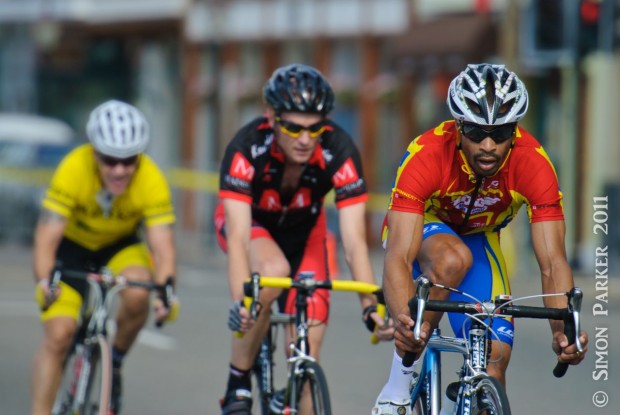 Ricky Smith (Sr) of Team Winner's Edge outsprinted up-and-coming junior Daelan Richardson of Team Tokio to win the B race. Stephen Tomlinson of Team Fast Forward Bicycle Works finished third. Tomlinson is leading the B category ahead of Peter Dunne and Mtume Hart in the series competition.
Nigel Godfrey of Team Tokio held off Dnarte Lima to win the Adult C race. Earlena Ingham of Team Focus finished third. Godfrey, Lima and Ingham hold the top three places in the IBC points competition.
Ricky Smith of Team Winner's Edge crosses the line to win the Adult B race: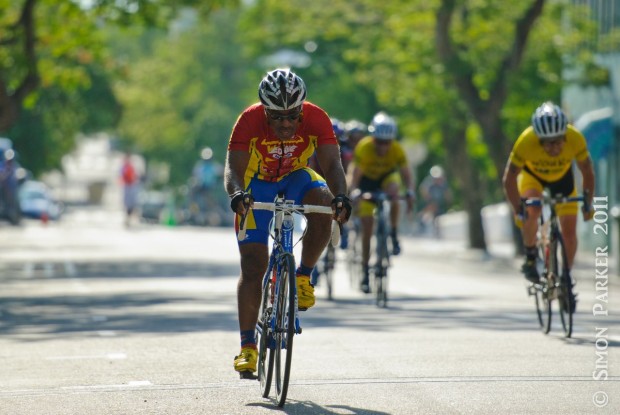 Rico Smith of Winner's Edge made it a family affair joining his father to win the Junior A race after a long duel with Daniel Oatley of Fast Forward Bicycle Works. Gabriella Arnold of Winner's Edge was third. Oatly leads the series competition ahead of Smith and Arnold.
Vashon Cann leads Mark Godfrey on Front Street: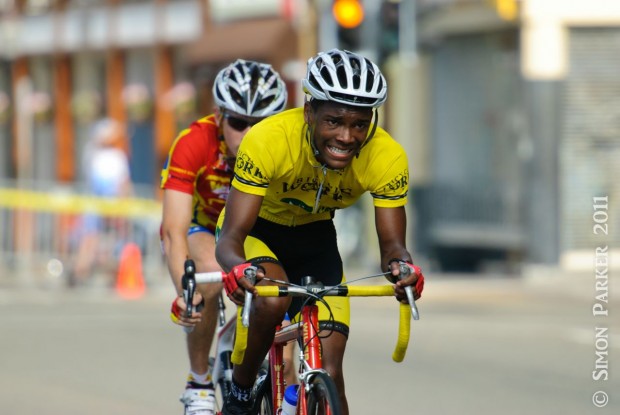 Zion Dowling of Team Focus finished tops in the Junior B race ahead of Alex Pilgrim of Fast Forward Bicycle Works and Robin Horsefield. Dowling and Pilgrim lead the series competition with Victoria Davis holding rounding out the top three.
Crime Stopper Jayden Ming was first in the Junior C category ahead of Nicholas Pilgrim of Fast Forward Bicycle Works and Fellow Crime Stopper Malik Joell. Pilgrim leads the series competition ahead of Ming and Julianne Oatley.
Rico Smith leads Daniel Oatley in the Junior A race: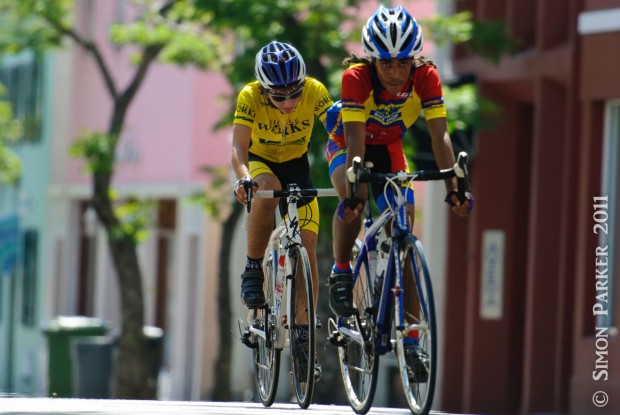 After six races this season Team Fast Forward Bicycle Works leads the team standings with 339 points ahead of Winner's Edge with 305 points, Madison with 263 points. Team Focus has 67 points. Crime Stoppers have 50 and Tokio have 47.
The next IBC series race is July 17th in Hamilton. For more information visit bermudabicycle.org.
Stephen Tomlinson of Team Fast Forward Bicycle Works: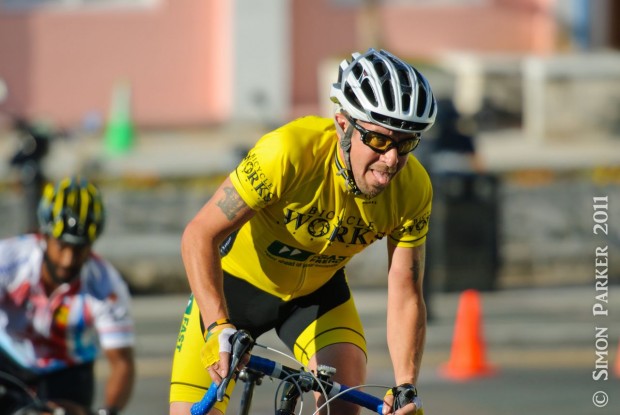 - All photos courtesy of Simon Parker
Read More About