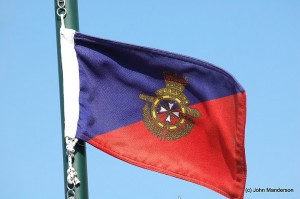 30 soldiers of the Bermuda Regiment 2011 Junior Non Commission Officer Cadre have successfully completed the final exercise, tactics phase, after spending two weeks living and working in the field at Canadian Army Training Centre, Meaford, Ontario.
This exercise was the culmination of six months lead-up training, and was designed to test the students' military and leadership skills by putting them through a demanding training regimen consisting of field craft exercises, skill at arms, adventure training, command tasks, map reading and cross country navigation.
Under the leadership of Platoon Commander Lieutenant Mark Lavery, the six month course has built on the basic soldiering skills learned during recruit camp, and focused on the basic principles of teamwork, perseverance and military leadership.
"It has been a rewarding experience to lead these young men and women through this phase of the JNCO Cadre," said Lt. Lavery. "In the short time we have been with them, I have watched them grow in skill, spirit and confidence. This is by no means an easy course and the fact that they have made it this far means that they have met, and in some cases exceeded, even those expectations they have placed on themselves. For this, I think they should all be very proud."
Regarding the exercise, Lieutenant Colonel Brian Gonsalves, Commanding Officer of the Bermuda Regiment said: "During the Cadre, one thing is clear – Candidates are no longer considered as Private Soldiers, but are treated as potential leaders."
"The events of the final exercise come in quick succession and test how well a soldier can handle themselves and the people around them in a mentally and physically demanding environment. The soldiers that complete this phase of the course have persevered and should feel rightly proud about their accomplishments. I am excited to see what these young Bermudians will bring to the Regiment and the country in the years to come."
"I didn't just see soldiers growing in military confidence; I saw young Bermudians working together, in a positive environment; these young citizens are carrying the torch for their generation. When we next have to respond to a natural disaster or perform one of our civic duties at home or overseas, I know that these junior leaders have the integrity and resilience to take delegated command in operational positions. "
Read More About