The St. David's Islanders and Native Community will be hosting  the Annual Bermuda Pow Wow at St. David's Cricket Club Field on June 18th and 19th, 2011. This year's Pow Wow is dedicated to the memory of Alice Lopez, one of the strongest champions of cultural ties between Native American Wampanoags and St. David's Islanders.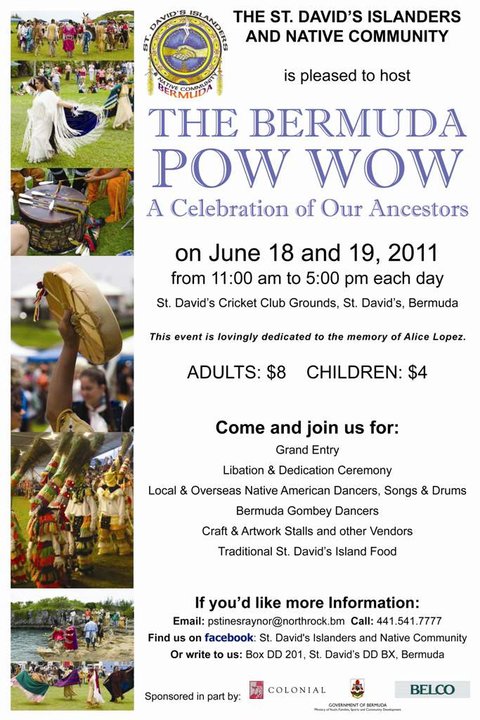 Ms Lopez was an activist on behalf of Wampanoag housing rights on Cape Cod and a walking repository of tribal lore. She was highly active in the Reconnection Festivals and had become a familiar and popular figure in Bermuda in recent years.  Ms. Lopez collapsed at her home in Mashpee, Massachussetts earlier this year and died soon afterwards.
Ms Lopez — usually adorned in traditional Wampanoag regalia – had been a familiar figure in Bermuda since 2002. In recent years, St. David's Islanders along with Gombey troupes– a Bermuda tradition which incorporates Native American elements  brought to the island by Indian slaves – have also attended Wampanoag festivities Ms Lopez helped to organise in Massachusetts.
This is the 7th Annual Bermuda Pow Wow celebration. For more information call 541 – 7777
Read More About
Category: All