The U.S. Consulate yesterday [July 8] recognized six shipping companies located in Bermuda for participating in the United States Coast Guard's voluntary search and rescue network, AMVER [Automated Mutual-Assistance Vessel Rescue]. Search and rescue authorities around the world use the voluntary ship reporting system to assist ships and aircraft in distress at sea.
The local companies whose 11 ships received awards for participating in AMVER are: Bernhard Schulte Ship Management Ltd. for the Bahama Spirit, the Cap Bon, the CMA CGM Azure, the EM Spetses and the Susanne Schulte; Container Ship Management Ltd. for the Oleander and the Somers Isles; Frontline Ltd. for the Front Tina; Golden Ocean Group Ltd. for the Golden Eclipse; Petredec Ltd. for the Desert Orchid; and Teekay Shipping Ltd for the Koa Spirit.
While eight of these ships are newcomers to the AMVER network, the Bahama Spirit, Cap Bon, and the Oleander have participated in this global safety program for two, four, and two years respectively.
After presenting letters of appreciation to representatives of the local participating companies and certificates of merit and pennants to their ships, U.S. Consul General Grace Shelton said, "I am honored to recognize the Bermuda companies whose ships contributed to global maritime safety.
"Their vessels helped to make 2010 a record-breaking year at AMVER. AMVER-enrolled ships saved 267 lives while assisting many other ships in distress. In all, 6,245 ships contributed to maritime safety in 2010 by plotting their coordinates on AMVER for at least 128 days. The Bermuda ships were among that number, and we are thankful for their active participation."
Pictured below U.S. Coast Guard 2010 AMVER Awards (Left to Right): Mark Cave, Teekay Shipping Ltd; U.S. Consul General Grace Shelton; Claire Burnard, Frontline Ltd. and Golden Ocean Group Ltd; Blair Simmons, Container Ship Management Ltd; and Don Dunstan, Petredec Ltd. Missing from photo is Jens Alers, Bernhard Schulte Ship Management Ltd. [Photo courtesy of U.S. Consulate]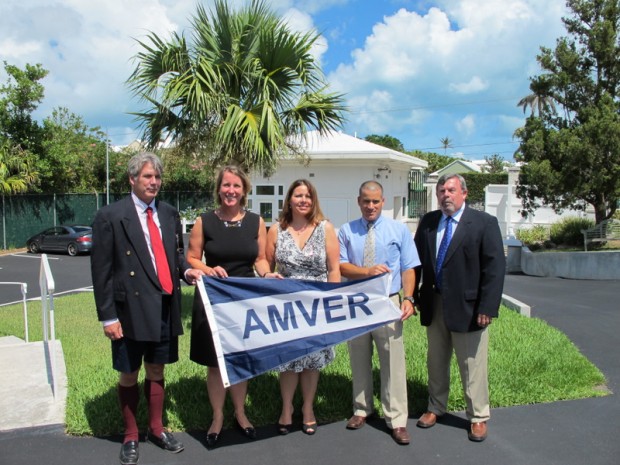 Prior to sailing, participating ships send a sail plan to the AMVER computer center, indicating their ports of departure and arrival, course and speed. Vessels then report every 48 hours until arriving at their port of call. Thus AMVER is able to project the position of each ship at any point during its voyage in relation to a mariner, vessel, or aircraft in distress. AMVER rescue coordinators can then divert the best-suited ship or ships to respond. On any given day about 4,000 ships are available to carry out search and rescue services.
The concept of an AMVER safety network arose after the 1912 Titanic disaster. Passing ships were unaware that the Titanic had hit an iceberg and was sinking, believing that the distress signals were part of the maiden voyage celebrations. The idea of a ship reporting system that could identify other ships in the area of a distressed ship did not become a reality, however, until the advent of computer technology in the 1950s.
Read More About