The Argus Group today announces details of its $5,000 donation to provide financial support for the Victor Scott Primary School's summer programme.
Donations from private entities and members of the public were required to allow the school to continue its structured summer programme for the second year at an affordable rate for parents facing financial difficulties in this challenging economy. Last year's programme was a huge success.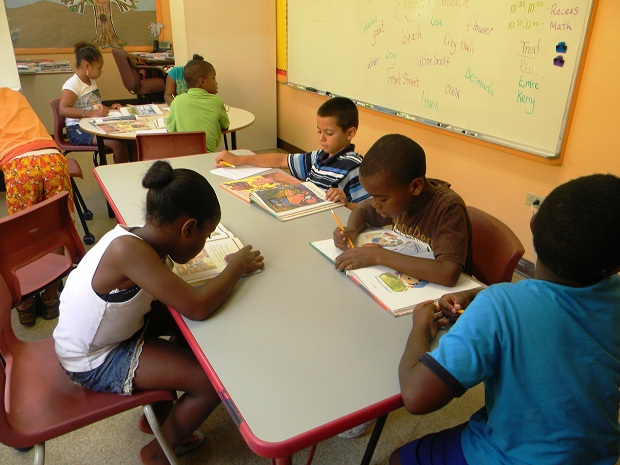 The President of the Victor Scott Parent Teacher Association (PTA) approached the Argus Group in July for funding for the summer programme, which aims to provide continued academic support, social skill instruction and behaviour management to maximise student potential for learning and readiness for the upcoming new school year.
In particular, the programme is aimed at helping those students who are receiving learning support via an Individualized Education Program (IEP) during the school term as well as those students who are below grade level in maths, literacy and reading. The programme served approximately 40 students each week during the summer school vacation.
The PTA at Victor Scott School decided to focus its efforts on saving the summer programme as it provides the school with a means of addressing the academic and social deficits that impede students' growth and development during the summer months. As the school has direct insight into the challenges of its students through day-to-day interactions, it is better equipped than an external party to design a programme to effectively service the students.
Alison Hill, Chief Executive Officer, The Argus Group, says: "Argus is dedicated to strengthening and adding value to the community in which we live and work. In particular, we are committed to supporting charities and groups that focus on health, youth, education, security and culture. When we were approached by the PTA President at Victor Scott Primary, we were delighted to help maintain its summer programme to ensure that those students in need of additional learning support, social development and a 'safe haven' over the holidays received it."
Azuhaa Coleman, Victor Scott PTA President, says: "During the regular school year there is so much to be accomplished to ensure students are prepared for the next level. By June, for many different reasons, there are students who are not equipped to move on. In some cases students just haven't mastered making the necessary connections to build on new concepts."
"The summer programme aims to teach those basic skills to students using a variety of creative methods so that learning becomes more meaningful and enjoyable. In a time when the country needs to work together to look for ways to maintain services and programmes of great need, I applaud those teachers for being proactive and appealing to the private sector and corporate organisations for their financial assistance. I hope next year more companies will recognize this need as the Argus Group did and are willing to jump on board."
Read More About
Category: All