In an effort to attract younger members, the Bermuda National Trust is hosting its second annual happy hour event entitled Ultimate Unwind on Friday, August 12, 2011. The event, which takes place at Trust headquarters, Waterville, will feature New Era DJs.
The Bermuda National Trust is very excited to offer the community this opportunity to unwind on a beautiful Trust property.
"Last year's event was a huge success and brought over 50 new memberships to the Trust helping to strengthen our voice in protecting and preserving Bermuda's built heritage and open spaces," notes the event's coordinator, Deanne Hart, who adds, "This year we've had the opportunity to work with a team of nine ACE interns who chose this Trust event as their Summer Community Project."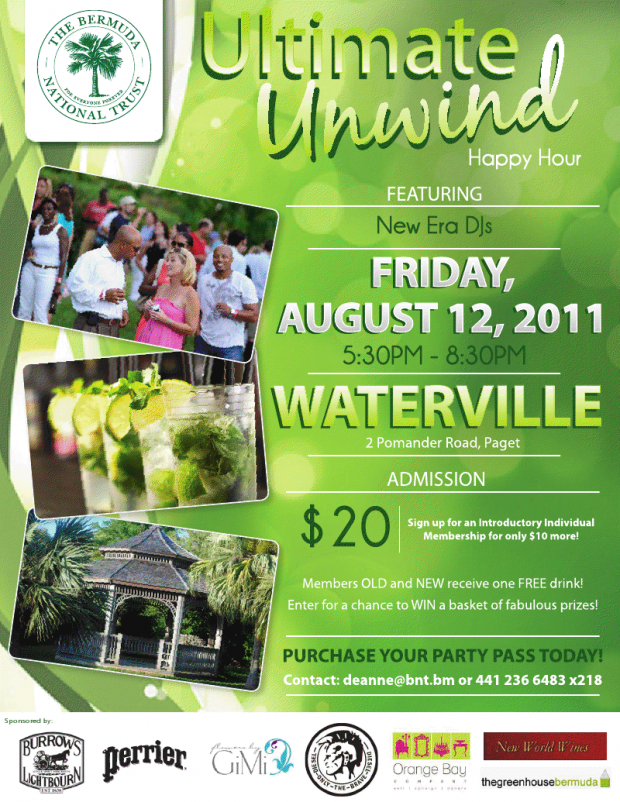 Korrin Lightbourne and Naeema Fubler lead the team of ACE student interns in selecting entertainment, soliciting sponsors and arranging marketing with the goal of attracting 10 new memberships each to the Trust. Seven of the interns will also have a presence at the event as volunteers.
Executive Director, Jennifer Gray states, "The Trust is extremely appreciative of the ACE Group for its commitment to Bermuda through charitable efforts such as these. We were thrilled to hear that a team of teenagers consider the preservation of Bermuda's unique heritage and precious open spaces vital to a successful Bermuda."
"Their support inspires us to continue our good work and enables us to embrace our young people in the value of the preservation of built and natural heritage."
In addition to a membership drive, this event will serve as a fundraiser to supplement the recent $200,000 cut in funding from Government, create an awareness of Trust initiatives and properties with the community, and promote local talent.
This year's "Go Green" theme will support their Conservation Programme, which is at the core of the Bermuda National Trust's environmental mission.
This programme cares for and manages over 250 acres of nature reserves, gardens, agricultural lands and 13 historic and military cemeteries that we protect in perpetuity, for everyone, forever. The Trust also maintains and protects 57 historic buildings.
"The main goal of this event is to diversify and increase membership for the Trust," advises Deanne Hart, Membership and Development Administrator, who is hoping to attract 100 new members with this initiative.
"We are encouraging our existing members to assist with this drive to bring diversity and youth to the organization. We are hopeful that our faithful members will purchase a ticket or membership for a child, niece, nephew, godchild or grandchild in support of our efforts to embrace the next generation," adds Jennifer Gray.
The $20 admission fee includes one free drink for members. And, those who wish to do so can sign up for an introductory individual membership for an additional $10 as well as their free drink.
Patrons will also have the opportunity to enter to win a basket of fabulous prizes courtesy of Smirnoff, Burrows Lightbourn Ltd., Perrier, John Barritt & Sons Ltd., the Stefanel Group, Flowers by GiMi, Orange Bay Company, New World Wines, Lindo's and the Green House Bermuda.
Read More About
Category: All