The Bermuda Olympic Association today [Aug.25] officially announced the names of the athletes who will represent Bermuda at the Commonwealth Youth Games, which are being held from September 7- 13 2011 in the Isle of Man.
Eight athletes will represent Bermuda in four sports. Bruce DeGrilla, Scott Clarke, Akeila Richardson and Kyle Webb will compete in Athletics, Tre-Shun Correia and Dominique Mayho will compete in Cycling, Nicholas Patterson will compete in Swimming and Sydney Mason will compete in Gymnastics.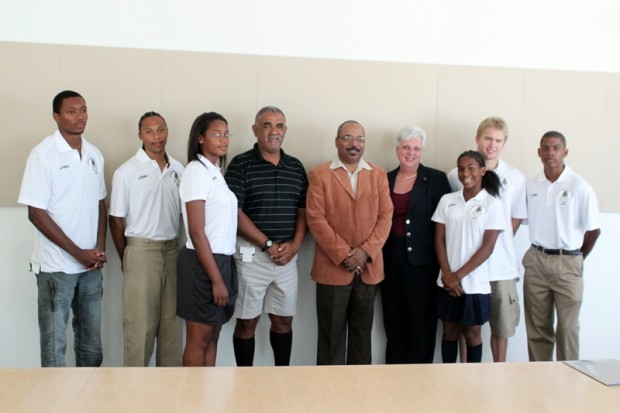 Accompanying the athletes will be Team Leader, Calvin Simons, Senior Sport Development Officer at the Department of Youth, Sport and Recreation, Team Official & Physiotherapist, Carola Cooper of Life Thyme Wellness Clinic, and Officials Devon Bean (Athletics), Peter Dunne (Cycling), Ben Smith (Swimming) and Duke Nelligan (Gymnastics).
Judy Simons, President of the Bermuda Olympic Association, said, "Bermuda should be proud of the team of talented athletes who will represent our country at the upcoming Commonwealth Youth Games. We are pleased that the BOA, working with the National Sport Governing Bodies for Athletics, Cycling, Swimming and Gymnastics, has been able to assist these fine young people to rise to the top in their respective sports and that they now have the chance to meet and test their abilities against athletes from other parts of the world. It is our pleasure to play a part in their ongoing journeys to success."
The Commonwealth Youth Games was created under the auspices of the Commonwealth Games Federation for the purpose of providing the Commonwealth with a multi-sport event for the young public. While the chosen sports have been different for each Games, this edition of the Games will see competition in seven sports: Athletics, Badminton, Boxing, Cycling, Gymnastics, Rugby 7s and Swimming.
The inaugural Commonwealth Youth Games took place in Edinburgh, Scotland in 2000. Bermuda first took part in the Commonwealth Youth Games at the second Festival in Bendigo, Australia in 2004 and competed again at the third Games in Pune, India in 2008.
Read More About