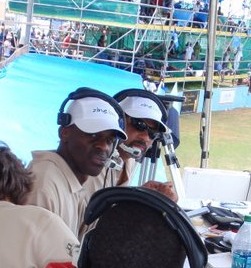 Cup Match commentators Albert Steede and Cleon Scotland have announced their retirement from broadcasting. On the heels of one of the most exciting Cup Match Classics in recent memory, both men have decided that the time is right to step aside from their roles at the Bermuda Broadcasting Company.
Former Bermuda and Somerset Cup Match captain Albert Steede had just completed his seventh year in the booth and admitted that he thought the 2010 match would have been his last. "Coincidentally, Cleon mentioned last year that he thought he would probably finish up at Wellington Oval in 2011, so I decided that I would stay with him for another year and we could hang up our mics together."
Mr Scotland added, "I've been very fortunate to be doing this for 12 years but last year I felt that it was time to get off the stage. Fortunately we had a very exciting game to call this year so it was a good ending for us both."
Both men wanted to thank former players and commentators, Colin Blades, Randy Horton MP and Allen Richardson as well as scorer Janet "Pinky" Todd for their encouragement and friendship over the years. Special thanks also went out to Ric Richardson, Everest DaCosta and Earlston Chapman at Bermuda Broadcasting Company.
Mr. Steede's broadcasting career doesn't make for good reading for Somerset fans – 4 draws and 3 defeats. He joked, "Maybe we can get a victory now that I won't be commentating anymore!"
Mr. Scotland on the other hand called 3 victories for St George's, 1 for Somerset and 8 draws. He concluded by thanking the fans. "The praise we have received over the years – and especially this year – has been overwhelming . It made our decision a very difficult one, but it has truly been an honour to be part of such a wonderful Bermuda tradition. Long may it continue."
Read More About