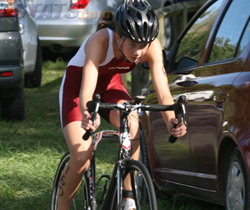 Bermuda's Junior Cycling team won two medals during the first day of the 2011 Junior Caribbean Cycling Championship being held in Puerto Rico.
Bermuda won their first medal – Gold – courtesy of Molly Pilgrim [pictured] who won the 10k Girls Time Trial by two seconds over Coral Ramirez of Puerto Rico. Bermuda's Gabriella Arnold captured third place in the same race to give Bermuda two spots on the medal podium.
In the Juvenile Boys 15-16 group Mark Godfrey finished 6th, while Daelen Richardson finished 14th over 15 kilometers. The group was won by Brandon Martinez of Puerto Rico.
The Junior Boys 17-18 group was won by Joel Dirksz of Aruba with Bermuda's Dominique Mayho just off the podium in 4th, while Tre-shun Correia finished 9th on the 20 kilometer course.
This is Bermuda's first time picking up two medals in the event. Since the inception of the competition in 2006 and prior to 2011, Bermuda won four medals in total; Hayley Evans (bronze, 2008 time trial in Curacao), Sophie Adams (bronze, 2008 road race in Curacao), Izabella Arnold (bronze, 2009 time trial in Bermuda) and Mark Godfrey (2010 road race in Aruba).
Read More About