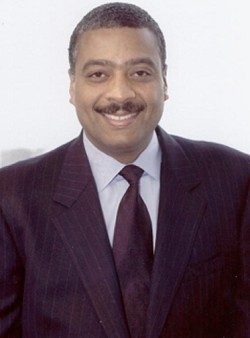 September 5, 2011 will mark the 30th Anniversary of the celebration of Labour Day in Bermuda, and the theme of this year's Labour Day is 'Sustaining Trade Unionism'.
To help celebrate this year's Labour Day, the BIU has invited Lawrence Hamm, President of the New Jersey based People's Organization for Progress to deliver the keynote address at this year's Annual Labour Day Banquet.
Mr. Hamm [pictured] is described in a statement from the BIU as "a relentless advocate for African-American people and the cause of human rights for more than thirty years."
A graduate of Princeton University, Mr. Hamm distinguished himself during the anti-apartheid movement by organizing student protests and calling attention to Princeton's financial investment in apartheid South Africa."
"In 1986, Mr. Hamm traveled with Rev. Ben Chavis throughout the Deep South to retrace the route of the 1960s Freedom Rides. Rev. Chavis, Mr Hamm and busloads of activists conducted voter registration drives in Alabama."
The Banquet will be held on Friday, September 2, 2011 at the Fairmont Southampton Resort. Tickets for this year's banquet are $100 each and are available at BIU Headquarters or by contacting LaVerne Furbert at 292-0044 by e-mail at lfurbert@biu.bm.
In addition to the Labour Day Banquet, the Joint Labour Day Committee has planned a host of events to take place on Labour Day beginning at 8:30 a.m. with the Annual Running Race, the Bermazing Race, and the Annual Labour Day March through the City of Hamilton followed by activities at Union Square.
Also included in this year's Labour Day Celebration will be a repeat of some of the Emancipation Day Celebration events. Attendees should also expect to participate in discussions on the trade union movement in Bermuda, with speakers such as former BIU Leader and MP Ottie Simmons, Ira Philip and Collin Simmons. Rev. Joseph Whalen will address the topic "Religion and Trade Unionism". The Labour Day activities will culminate with a performance by the Gombeys.
Read More About