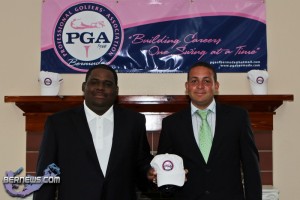 The Bermuda team of Nick Jones and Daniel Augustus depart on Monday September 19th to join a strong field of 13 other nations coming from every corner of the Americas.
The 72-hole event, which awards three berths into the $7.5 million Omega Mission Hills World Cup, is scheduled to start on Thursday at the Caracas Country Club in the Capital City of Venezuela.
The South American Qualifier is the only qualifying tournament yet to be played. The top three teams in Caracas will join a star studded field set to gather at the Mission Hills Resort, Hainan Island, China, from November 24-27.
Argentina, Bermuda, Bolivia, Brazil, Canada, Costa Rica, Dominican Republic, Guatemala, Mexico, Paraguay, Peru, Puerto Rico, Uruguay and Venezuela are the nations that confirmed their two-man teams looking to make it to the Mission Hills Resort at Hainan Island, China.
Accompanying the team will be BPGA Vice President, Alex Madeiros. "My first priority is the safety of the players and to ensure that they have what they need to make it into the top three. There is no doubt in my mind that these two young talented players will make the best of this opportunity, they have very similar games and hit the ball a very long way. I would not be surprised if they qualify, I know that they can do it."
The teams:
Argentina: Julián Etulain & Rafael Gómez.
Bermuda: Nick Jones & Daniel Augustus.
Bolivia: Fernando Gonzales & José Luis Vargas.
Brazil: Adilson da Silva & Lucas Lee.
Canada: Adam Hadwin & Roger Sloan.
Costa Rica: Roy Vargas & Juan Marín.
Dominican Republic: Guillermo Pumarol & Juan Carlos Perello.
Guatemala: Pablo Acuña & José Toledo.
Mexico: José de Jesús Rodríguez & Óscar Serna.
Paraguay: Carlos Franco & Héctor Céspedes.
Peru: Sebastián & Patricio Salem.
Puerto Rico: Rafael Campos & Max Alverio.
Uruguay: Diego Pérez & Fernando Cancela.
Venezuela: Raúl Sanz & Alfredo Adrián.
Tournament Schedule:
Tuesday, September 20 – Practice Round and Opening Ceremony
Wednesday, September 21 – Practice Round
Thursday, September 22 – First round (fourball)
Friday, September 23 – Second round (alternate-shot foursomes)
Saturday, September 24 – Third round (fourball)
Sunday, September 25 – Final round (alternate-shot foursomes)
You can view live hole by hole scoring on www.tourdelasamericas.com
Read More About