Earlier this week, Minister of Business Development and Tourism Patrice Minors, spent time 'working' at The Fairmont Southampton as the island's largest hotel marked World Tourism Day.
Working alongside and with the guidance of The Fairmont Southampton's staff, Minister Minors was shown how to prepare a bed, serve tea in the Jasmine Lounge and to greet guests at the Front Desk.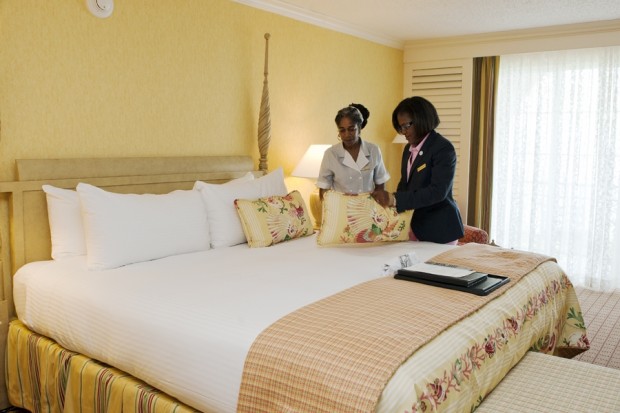 Director of Public Relations at The Fairmont Southampton, Jamahl Simmons said, "We at The Fairmont Southampton were honored to mark World Tourism Day with Minister Minors. Our colleagues were pleased to have the opportunity to work alongside her, ask her questions about the tourism industry and to share their stories about life at the hotel."
Reflecting on the day's activities, Minister Minors commented, "It was a pleasure to work with the staff at the Fairmont Southampton and bring recognition to the great work that happens daily in Bermuda's hotels and hospitality industry. In my role as Tourism Minister, I enjoy every opportunity to meet with those who are working diligently in the industry to provide such excellent service and make our visitors feel welcomed."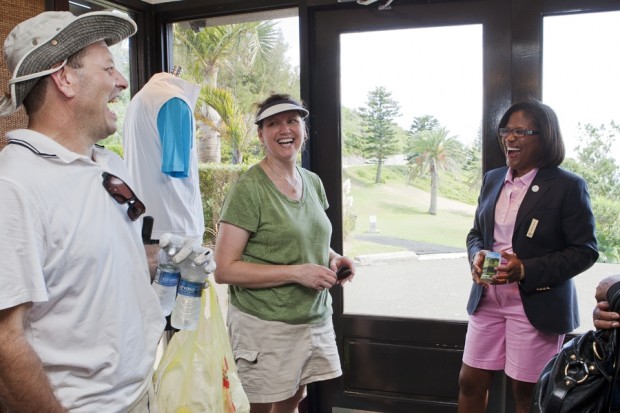 The Minister added, "Yesterday, when I met with the housekeeping staff, we discussed how busy this summer season has been and I assured them that the Department of Tourism is doing our very best to promote Bermuda especially with the new November to March activities and events planned to stimulate our visitor numbers."
The Minister's day at The Fairmont Southampton began with an introduction to the members of the Housekeeping and Laundry Departments. Then it was up to the 6th Floor and the Fairmont Gold Floor where she was introduced to the staff, toured the Gold Lounge and received her lesson in bed making. Then, it was down to the Jasmine Lounge, where the Minister picked up a tray and served tea and coffee to several diners.
The Minister was then whisked off by trolley to the resort's 18 hole Championship Par 3 course and given a tour of the newly renovated Resort Golf Shop, greeting several golfers along the way.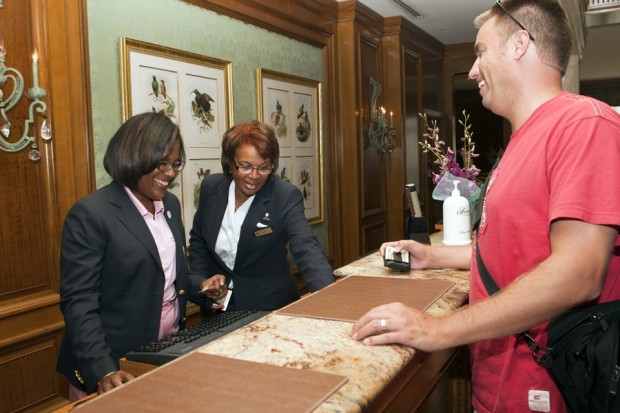 Next stop was The Willow Stream Spa for a brief chat with the staff. Finally, Minister Minors was greeted by The Fairmont Southampton's Front Desk team and given a crash course on how to check-in a guest.
Observed annually on September 27th, World Tourism Day was started by the General Assembly of the World Tourism Organization in 1980 to foster awareness among the international community of the importance of tourism and its social, cultural, political and economic values.
Read More About
Category: All