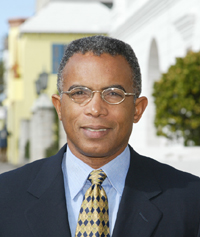 [Updated] This evening [Sept.20] the PLP hosted two candidate selection meetings, with both constituencies seeing challengers selected over the sitting MP.
Rolfe Commissiong was selected over Ashfield Devent in Pembroke South East, and Diallo Rabain was selected over Darius Tucker in Hamilton South.
Constituency #21 Pembroke South East held their candidate selection meeting at Alaska Hall on Court Street.
Considered one of the more secure PLP areas, Ashfield Devent has held the seat for almost ten years, securing a margin of 526 – 252 against the UBP's Tillman Darrell in 2007.
Mr Devent was challenged by Government consultant Rolfe Commissiong, Senator Jonathan Smith, and Vance Campbell, with Mr Commissiong being given the nod.
Mr. Commissiong has previously stood for election for the PLP, however he ran in Paget constituencies that were generally considered more inclined to vote UBP. This will be the first time he will contest a seat seen as likely to vote PLP.
Diallo Rabain was selected to stand as the PLP candidate for Constituency #7 Hamilton South. PLP MP Darius Tucker presently holds the seat, however he was originally elected under the UBP – beating the PLP's Wayne Caines 547 – 420 in 2007.
In 2009 Mr Tucker opted to resign from the UBP and sit in the House of Assembly as an Independent MP until three months ago; in June 2011 Mr Tucker crossed the floor to sit as a PLP MP.
Update 10:05pm: Quick video of Mr Devent entering, and leaving, the meeting this evening.
Read More About