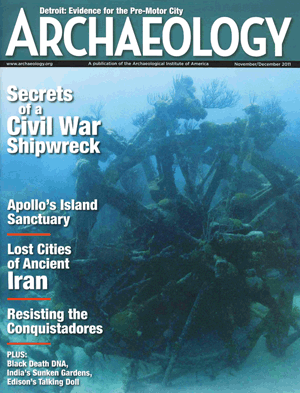 Archaeology Magazine is carrying an article featuring a local shipwreck project, in which the remains of an American Civil War blockade runner have yielded long-buried secrets to an international team of archaeologists working with Bermuda's Department of Conservation Services.
Items including wine and perfume have been excavated from the Mary Celestia shipwreck, which crashed into the reefs off Southampton on September 6, 1864.
The article starts by saying, "Bermuda is an island nation famous for its shipwrecks. Discovered in 1505 by Spanish mariner Juan de Bermudez, the tiny territory is made up of 181 small islands ringed by reefs that have claimed hundreds of vessels. It was a shipwreck, in fact, that led to the settlement of the islands."
"Today, Bermuda is home to more than 62,000 people, and some 150 to 300 wrecks are said to be submerged off its beaches and in its maze of reefs."
"Several hundred yards offshore lies the Mary Celestia, an iron-hulled sidewheel steamship that hit the reef off the Gibbs Hill Lighthouse on Bermuda's southern shore on September 6, 1864."
"The wreck is visited each year by hundreds of divers drawn by the clear, warm waters, the coral and fish, and the skeleton of the iron steamer laid out in the coralline white sand. Although it is one of Bermuda's "top ten" diving attractions, Mary Celestia is much more than that."
"The wreck is an historical and archaeological site tied to one of the most fascinating naval aspects of the U.S. Civil War. It is also a site that has recently yielded new secrets thanks to a hurricane, the watchful eye of a Bermudian scientist and government official, and archaeology."
Read the full article here, or visit mary-celestia.com to read LookBermuda/LookFilms coverage, as the local company is producing a film based on the project.
Read More About
Category: All, Environment