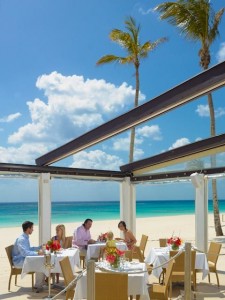 Bermuda residents can look forward to a different kind of escape this winter at Elbow Beach as Mickey's Beach Bistro and Bar will continue to open for lunch on the weekends.
Beginning on November 5, Mickey's will launch their new "Escape to Mickey's" New England bistro-style lunch menu.
On Saturdays and Sundays only, the specialty lunch menu will be available from 12noon to 3pm and is focused around seafood and dairy products in the tradition of New England cuisine.
Mickey's will be using the freshest seafood from Massachusetts, Maine and Rhode Island, prepared in a variety of ways, including simply steamed or fried, just like in a rustic seafood shack. Dishes will include; raw Island Creek Oysters, Cape Cod Clam Pie, Boston Lobster Sandwich and Rope Mussels cooked in a rich white wine cream sauce.
The bar at Mickey's will also be open on Saturdays and Sundays from 10am to 6pm offering wine and beer specials.
On Sunday's DJ "Kaos" will play music from 3pm to 6pm creating the perfect clambake style atmosphere to complement the new menu. Patrons will be able to relax to the sound of the waves and enjoy a delicious array of New England seafood, all without leaving the beautiful pink sand beaches of Bermuda.
The Elbow Beach luxury resort recently completed a $5.5 million refurbishment project. The resort now features 98 guestrooms and suites spread amongst 50 acres of lush manicured gardens that gently slope down to its signature pink sand beach.
Read More About