Last month Bermuda's very own Sea Breeze Salsa Kids travelled to New York took the stage at one of the largest gatherings of salsa enthusiasts in the world.
The Bermudian contingent performed an energetic salsa routine spiced with a little modern flavour which caught the attention of those in attendance.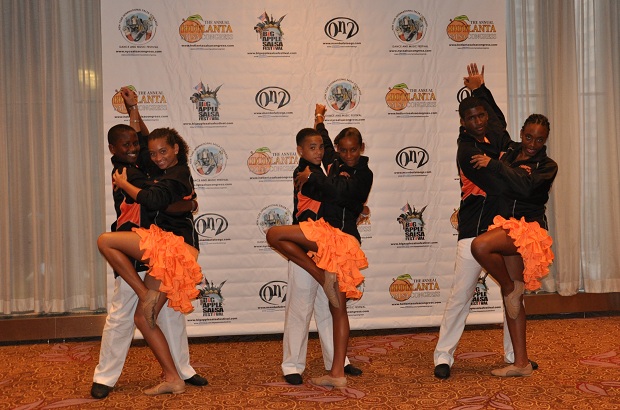 Dressed in bright orange and white Latin attire, the young people — three boys and three girls — showed the world what they had tirelessly practiced and rehearsed for over the summer month.
The group — aged from 12-16 — have performed locally since their formation in 2008 under the direction of Jamelle Ming and assisted by Lisa Ty. By taking part in the New York congress, the kids were finally able to achieve their goal of performing internationally.
Salsa routine "Manigua" directed by Jamelle Ming:
So enthusiastic and committed have they been to Latin dancing, the kids also learned a last-minute bachata routine which they performed in New York. The dances were choreographed by  Island Touch Dance
The New York  event is an annual celebration of Latin dance and music held over the Labour Day weekend. It is intended to inspire participants to achieve a higher level of knowledge, expression and cultural awareness, regardless of age, race, culture, gender, social and economic background.
Events include Latin dance workshops, youth and adult professional performance showcases and a professional championship competition. The Bermuda dancers performances before the international audience on hand was the highlight of the weekend trip to the Big Apple.
"However, exposure to other international performers and professionals, a huge variety of workshops, multiple nightly shows, live Latin bands and endless social dancing every night was part of the experience that will forever be remembered by all the kids and their supporters from Bermuda," said a spokesman for the Sea Breeze Salsa Kids.
The kids and their director extended special thanks to CableVision, the Bermuda College, The R.I.C.H. Church, parents and others who sponsored, pledged or contributed to the realisation of their dream.
Bachata routine "Llorar Lloviendo" directed by Jamelle Ming:
Director Jamelle Ming said, "We are extremely proud of what they have achieved".
The Sea Breeze Salsa Kids are Ashanti Hart, Mikayla Wilson, Malaysia De Rosa, Khaleb Tota, Kaelin Cox and Emmanuel Smith .
Read More About
Category: All, Entertainment, Videos