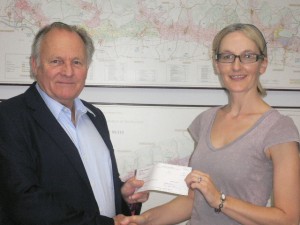 CADA has announced Burrows Lightbourn would continue, for the fourth year, their supporting sponsorship of the "Let Us Drive" taxi programme.
"Let Us Drive" is a free, don't drink and drive taxi service, operated by CADA, every Friday night between 3:15am and 3:45am from outside the LOM Building on Reid Street.
In making the announcement, CADA executive director Gillian Freelove-Jones said: "On behalf of CADA's board I am pleased to announce that Burrows Lightbourn will continue to support this life-saving programme.
"With the support of our corporate partners this important programme will continue to serve the public. Although we will never be able to quantify how many lives have been saved since the service started in May 2007, more than 6,000 people have been taken home in the last four and a half years."
Mr. Richard Hartley, managing director of Burrows Lightbourn [pictured above with Mrs. Freelove-Jones] added, "Our company is pleased to support this worthwhile and well-organized service. We view this as a significant partnership and look forward to its continued success."
Read More About
Category: All