[Updated with videos] The One Bermuda Alliance today [Nov.29] introduced three new Parliamentary candidates who will represent the party at the island's next General Election — Ras Mykkal, Jeanne Atherden and Shawn Crockwell.
Well-known sports photographer, musician and social commentator Ras Mykkal will be contesting Constituency #26, Warwick South Central which is presently held by Environment Minister Marc Bean who won the seat in a by-election.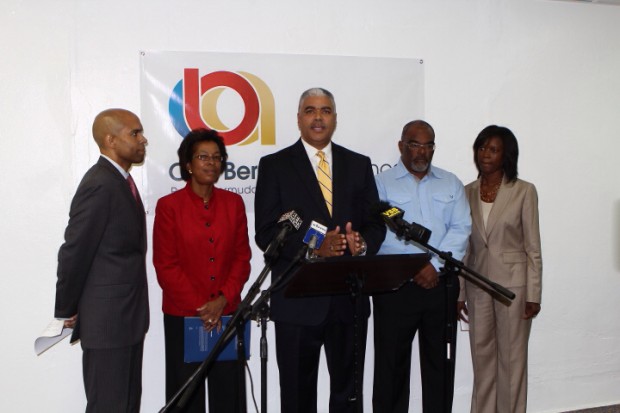 Former Senator and current OBA deputy chairman Jeanne Atherden will represent the party in Constituency #19, Pembroke West, which is presently held by the Opposition's Shawn Crockwell.
Mr. Crockwell won that seat — standing for the United Bermuda Party — with 58 percent of the vote [505 votes to 361] against the Progressive Labour Party's Walton Brown at the 2007 election.
The PLP has already confirmed that Senator A.L Vince Ingham will be their Constituency #19 candidate for the next General Election.
Incumbent Member of Parliament Mr. Crockwell will move to Constituency #31, Southampton West Central, which is presently held by the UBP's Charlie Swan. The PLP has already selected Scott Simmons as their candidate.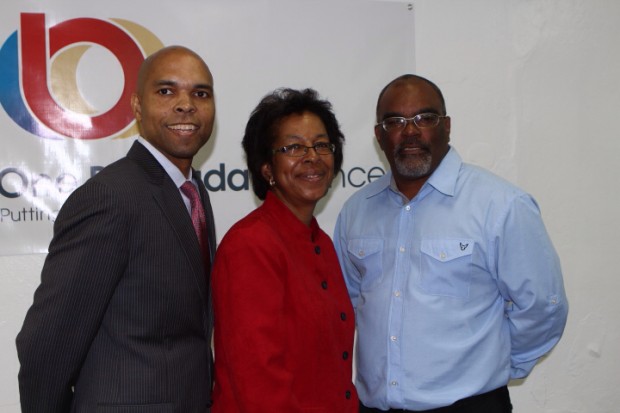 The Opposition previously confirmed ten candidates who will stand at the next election: Ray Charlton in Sandys North [C#36], Toni Spring in Sandys South [C#33], Jeff Sousa in Warwick West [C#28], Mark Pettingill in Warwick North East [C#25], Anthony Francis in Devonshire North Central [C#13], Craig Cannonier in Devonshire South Central [C#12], Michael Dunkley in Smith's North [C#10], Trevor Moniz in Smith's West [C#9], Sylvan Richards in Hamilton South [C#7], Gaylynne Cannonier in St David's [C#3].
Update 2.19pm: OBA Leader Craig Cannonier making the announcements this afternoon:
Update 2.31pm: Video of all three OBA candidates speaking:
Update 8.04pm: Full candidate statements added below:
Ras Mykkal's full statement:
Bermuda is not working for its people.

How can it be working when so many are unemployed? How can it be working when it's people
who are making the sacrifices and not the leaders?

Elected leadership is supposed to work for the best interests of the people, but it is not today.
That is my view and that is the reason I am stepping forward today as a candidate for the One Bermuda Alliance.

The party offers the opportunity for change, for a new beginning and that is why I approached them. Bermuda needs a viable option.

If we are to progress as a people, we need change.

I am involved because Bermuda needs to become a more cohesive society, and that means a country which is based on economic stability and positive social values.

Bermuda's greatest natural resource is its people. If this resource is not developed for the benefit of the country, and if the true value which they represent Is not given the opportunity to develop to its fullest potential, the country will languish, poor in spirit and lacking in achievement.

People cannot make a meaningful contribution to their country unless they possess and enjoy the basic necessities necessary for their participation in the affairs of their country.

To the people of Warwick South Central, I will be there to represent your best interest and to develop and implement ideas that can help you and your families live a better life.

There is too much division between politics and people. I want to change that, so you can count on me to be with you. I want a direct connection between you and what comes out of the House of Assembly.
-
Jeanne Atherden's full statement:
Bermuda is crying out for change; change to better standards of behaviour; change to greater accountability and change to results that work for people.

I am proud to be part of a team that can bring about the change the country wants and deserves.

People stop me on the street, even persons I don't know, and they are saying: "Keep it up, it's time for change."

And so today, it is time for change.

I have been involved in politics for quite a few years, but never as a candidate for public office.

I am stepping forward because I am deeply concerned about the future of our Island.

I have watched with growing concern the failure to solve any of the problems plaguing us, from education reform, to gang crime, to an economy that has begun breaking down, leaving thousands without a job – something that would have been unimaginable just a few short years ago.

I watched with concern as our problems deepened and spread, to the point they threaten to undermine our way of life and our future together.

It is for this reason – the future of Bermuda – that I am stepping forward to be a candidate for the One Bermuda Alliance and to represent the people of Pembroke West, Constituency 19.

I am excited and pleased to have been selected by the party to represent Pembroke West because it is part of my life.

I grew up in the area. During my early years there, I would spend many hours playing up on the hill in Sunset Pass. I used to swim in Deep Bay and picnic at "Pontoons".

I know many people there and of course my family connections extend across the constituency.

My promise to the people of Pembroke West is that I will work for your economic well-being, for your family's safety and for your children's education.

I will be there for you, to listen to your hopes and concerns and to carry them forward.

In me, you will have a representative who believes in open government, who believes in fairness and who believes the people of this country need to be respected by their government and not taken for granted.

In me, you will also have a representative who will follow the money to make sure the public purse is respected.

I will work for a Bermuda that works better for you and your loved ones.

I want Bermuda to succeed again. I want it do better for its people. But we need change to make it happen, and that is why I am stepping forward today.

This is about our future together and that future starts today
-
Shawn Crockwell's full statement:
The One Bermuda Alliance is about change. We're about giving Bermuda the opportunity for new leadership that can get Bermuda back on track, where it is working better for all Bermudians.

The party's commitment to change is serious; asking some of us to step out of our comfort zones in order to bring about the change Bermuda needs.

My shift to Southampton West Central, Constituency 31, Pembroke West, Constituency 19, is part of that change.

It is imperative the One Bermuda Alliance wins the seat from the United Bermuda Party.

We believe that Charlie Swan will be running there in the next election and therefore we anticipate a 3-way race.

To see our way to victory, the party wanted a strong candidate to give us the best chance for victory. I am ready to play my part to make that happen.

But I want to be very clear that my decision to shift to Constituency 31 is not all about political strategy.

I first considered running in Southampton West Central some months ago after being approached by constituents who said that they wanted me to be the OBA candidate there. They said they knew I loved the community and that I could speak for it and work for it.

My family moved to Southampton West Central when I was three years old. I lived there most of my life. My parents, sister and nephew still live there today and I am often there to visit.

Going to Constituency 31 is, in effect, going home for me. It is my neighbourhood, my community and my childhood. I have a strong emotional connection to it.

To the people of Southampton West Central, I look forward to introducing myself, getting reacquainted and making sure your views are understood and carried forward.

Leaving Pembroke West, which I have represented since 2007, is a sacrifice. I enjoyed being its representative and helping people with problems and difficulties.

But in moving to Constituency 31, I feel I am answering the call of Southampton constituents and the call of my party.

I am going to a constituency where I have a strong personal connection.

Jeanne has a similar history in Constituency 19 as I have in 31, so it will be a win-win situation for us and the people of both constituencies.

Ultimately, these changes are about making sure the people of Bermuda are well-served and well protected by their Government.
-
Read More About