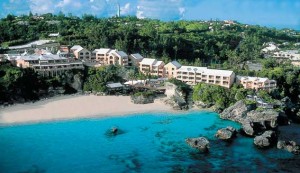 [Updated] Housekeeping staff at The Reefs have walked off the job after three colleagues in the maintenance department were made redundant this morning [Nov.7], Bernews understands.
Talks between the hotel's management and the Bermuda Industrial Union are underway,.
The work stoppage comes as hotel staff are today being informed about plans to scale back operations this winter so extensive renovations can get underway.
The project will begin January 2, 2012 and be completed by March 15 in time to welcome guests for the spring season.
"The Reefs is always looking for ways to improve our guest experience," general manager Nagma Walker said in a statement released this weekend. "By reducing our operations during the slow winter season, we are able to begin the initial phase of the hotel room renovations with as minimal disruptions to guests."
As a result of the planned renovations, the resort's 62 guest rooms, suites and cottages will not be available to guests from January 3 through mid-March. In addition, food and beverage operations will be suspended during that period to carry out the necessary maintenance in the resort's kitchen.
The 19 two- and three-bedroom luxury Club Condos, and all of the Club amenities such as the infinity pool, fitness centre, concierge and rooftop putting green, will remain open to both owners and for guest rentals. A Club Condo room-only rate will be offered for overseas guest rentals. The concierge at The Reefs Club can provide a pre-arrival grocery shopping service to guests in the absence of the restaurants.
La Serena Spa at The Reefs is open for both locals and Club Condo guests to enjoy its full-service menu of Elemis treatments. During the winter season, the spa will be open 8 a.m. to 8 p.m. Thursday through Sunday and 10 a.m. to 5 p.m. Monday through Wednesday.
Update 4.48pm: General Manager Nagma Walker said, "As a part of restructuring and realignment of The Reefs Hotel & Club, 3 positions in the Maintenance Department were made redundant. These decisions are difficult as we value our employees and their contributions. We empathize with them and are working with the Bermuda Industrial Union to assist in finding alternative employment for the 3 individuals. During this difficult economic climate, we are doing everything we can to minimize job redundancies while at the same time, maintain our high service standards for our guests."
Read More About