[Updated - OBA's Craig Cannonier wins with 82.89% of the vote, scroll to bottom for latest]
The Devonshire South Central by-election is underway today [Nov.1], with the three contenders all out greeting voters at the Horticultural Hall in the Botanical Gardens. The polls close at 8pm, and we will bring you the results later this evening.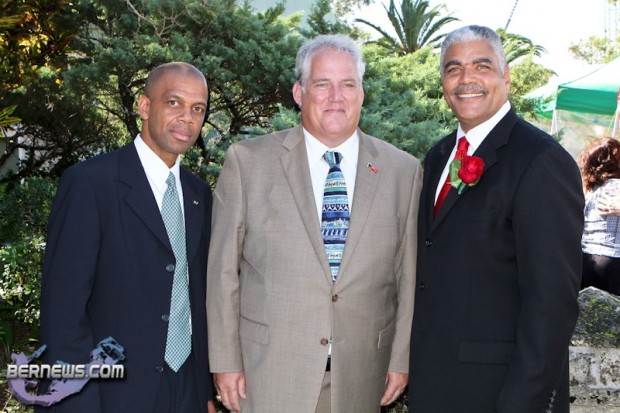 Senator Craig Cannonier is contesting the Parliamentary seat for the One Bermuda Alliance [above right], Anthony Richardson is running under the banner of the ruling Progressive Labour Party [above left] while former United Bermuda Party executive officer David Sullivan is standing as an Independent [above centre].
OBA Candidate Senator Craig Cannonier:
Sen. Cannonier and Mr. Richardson had some big name supporters on hand at the polling station this morning. OBA chairman Thad Hollis, Deputy chairmen Jeanne Atherden and Michael Branco, and former chairman Michael Fahy were at the Botanical Gardens when Bernews visited — along with outgoing constituency MP and former OBA interim leader John Barritt. OBA Deputy Leader Michael Dunkley, Jeff Sousa and former Senator Suzann Holshouser also stopped by the polling station in the afternoon.
Cheering on Mr. Richardson were Premier Paula Cox and husband Germaine Nkeulu, Deputy Premier Derrick Burgess, National Minister Wayne Perinchief, Economy & Labour Minister Kim Wilson, Tourism & Business Minister Patrice Minors, Attorney General Michael Scott, PLP MPs Wayne Furbert, Lovitta Foggo and Randy Horton, former press secretary Jamahl Simmons, PLP chairman Anthony Santucci and PLP supporter Larry Scott. Health Minister Zane Desilva arrived in the afternoon to both support the candidate and cast his vote as a resident of the constituency.
PLP Candidate Anthony Richardson:
The by-election was called due to the resignation of veteran Parliamentarian  Mr. Barritt, who had promised to step down if the new Opposition Leader selected at a September OBA party conference was not an elected MP.
After Sen. Craig Cannonier prevailed in his OBA leadership bid against MP Bob Richards, Mr. Barritt submitted his resignation and the by-election was called.
Independent Candidate David Sullivan:
John Barritt has held the seat for 18 years under the UBP's banner, gaining the lion share of votes in the four general elections he contested.
In 2007 election John Barritt, running under the UBP's banner, received 85% of the vote [723 to 122] against the PLP's Linda Merritt. In 2003, Mr Barritt garnered 90% of the vote [747 to 83] against the PLP's Dorothy Burch.
Click to enlarge photos:
Update 6.47pm: Additional supporters continue to make their way to the polling station including PLP supporter Makai Dickerson, Minister Glenn Blakeney, and former PLP candidate. Larry Mussenden. In addition, OBA MPs Shawn Crockwell, Bob Richards, Trevor Moniz and Pat Pamplin Gordon, and OBA members Sean Pitcher and Toni Daniels were seen.
Update 7.18pm: PLP MP Dale Butler has arrived. People are still trickling in although in considerably lower numbers then earlier today.
Update 7.33pm: Premier Paula Cox has returned to the polling station, with polls due to close in less than 30 mins.
Update 7.50pm: OBA Senator Dr Katherine Michelmore is also present.
Update 8.02pm: The door has closed, voting has finished. Candidates are waiting at the door to go in.
Update 8.13pm: The candidates appear to have been invited in.
Update 8.33pm: Votes are still being counted. Unofficial reports suggest around 570 votes were cast.
Update 9.06pm: Still no results. Officials from inside the polling station came to the door to ask the people gathered outside to quieten down.
Update 9.13pm: The first batch of results are in – it's not a final count – but so far out of 369 votes cast, the OBA's Craig Cannonier got 313 [84.82%], the PLP's Anthony Richardson got 42 [11.38%] and Independent David Sullivan received 14 [3.79%].
Update 9.31pm: The third of four batches of results are in – out of 542 votes cast, the OBA's Craig Cannonier got 463 [85.42%], the PLP's Anthony Richardson got 58 [10.70%] and Independent David Sullivan received 21 [3.87%].
Update 9.40pm: Senator Craig Cannonier has won the by-election. An official came out of the room, and announced Mr Cannonier as the winner, which received loud cheers from all the OBA supporters in attendance.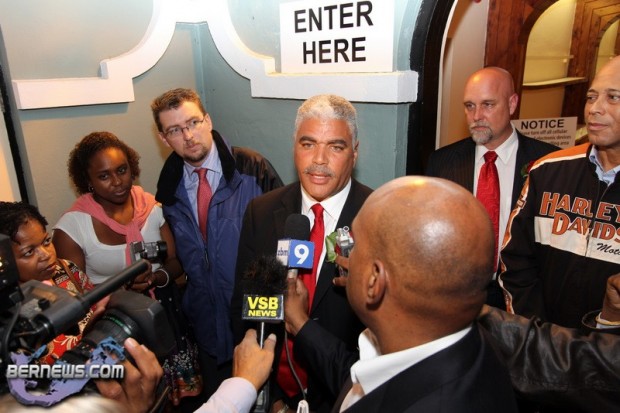 Update 9.43pm: The final results are: OBA's Craig Cannonier with 504 votes [82.89%] , the PLP's Anthony Richardson with 75 votes [12.34%] and Independent David Sullivan received 29 votes [4.77%] There were 608 total votes cast.
Update 10.25pm: Video of the announcement of the winner this evening:
Update 11.30pm: Sen. Cannonier speaks with Bernews after his win:
"John made this day possible," Mr. Cannonier said after the vote, adding that the two men canvassed together for much of the five-week campaign.
"Together we pounded the pavement and wore out a few shoes. I learned a lot from being with him. We always believed that getting on the doorstep was the key to victory. We worked hard at it, day after day. We took nothing for granted. Our aim was to earn people's trust and support one voter at a time.
"I also want to thank my OBA colleagues and the many volunteers who supported our work in Devonshire South Central. The party has much to be proud of."
"This was John's commitment to changing the political dynamic in Bermuda and to provide Bermuda with a strong, alternative government. For that selfless act, I am deeply grateful. He should be saluted by all Bermudians who understand the need for change."
Mr. Cannonier said he intended to carry the concerns of Devonshire South Central forward "because their concerns are the concerns of all Bermudians.
"We need to rebuild the economy where it once again grows jobs, we need to make our school system work for the children, we need to stop the shootings now and we need to take steps to restore trust in government, by making it open, transparent and accountable to the people.
"The work starts tomorrow," Mr Cannonier said.
Update Nov.2, 6am: Video reaction from the PLP's Anthony Richardson and Premier Paula Cox:
Read More About