In a bid to revive College Weeks, the Bermuda Department of Tourism [BDOT] is reaching out to young Bermudans studying abroad in North America with an incentive to bring friends and fellow students to the island to celebrate Spring Break in 2012.
Available during the weeks of February 18-24, March 3-9 and March 10-16, 2012, Bermuda Spring Break offers special hotel deals and island-wide events for students looking for an escape from their university studies.
From the '50s through the '70s, Bermuda was the destination of choice for Ivy League students looking for some fun and sun during their spring vacations, drawing tens of thousands of young people to the island every year.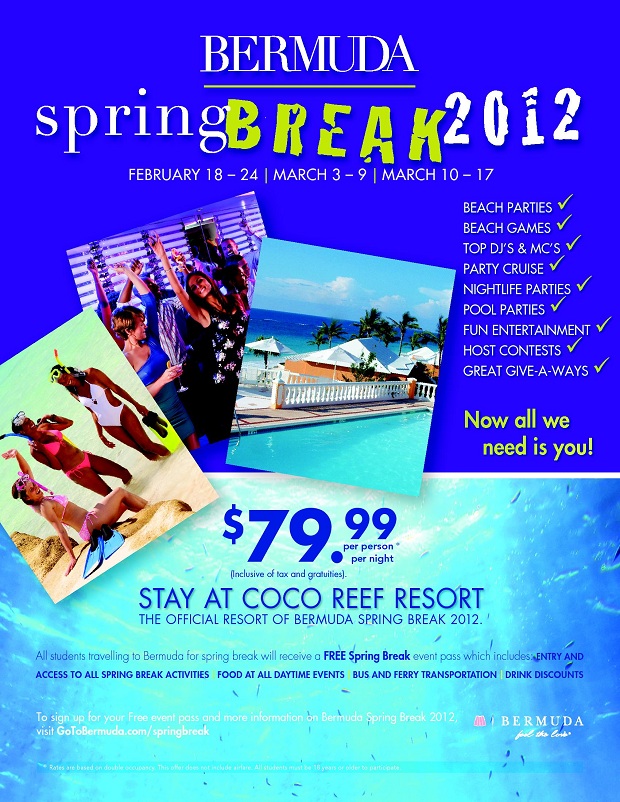 Now Bermudian students, heading home for Spring Break, can earn prizes and cash, courtesy of the BDOT by bringing friends along.
According to the Minister of Business Development and Tourism Wayne Furbert,  Bermuda is ready to compete for the lucrative spring break market and is offering several competitive advantages.
But more importantly, he is encouraging young Bermudians studying overseas to help make the programme a success.
"We have put together a very engaging programme to entice students and our close proximity and competitive pricing at Coco Reef will be a definite attraction," the Minister said. "We are calling on our Bermudian students overseas to encourage their friends to visit and show them first hand why our island is an incredible place to relax and enjoy themselves."
The programme offers a free iPad2 when bringing 10 overseas university or college students; an iPad2 plus $375 when bringing 15 overseas university or college students; or an iPad2 plus $500 when bringing 20 overseas university or college students.
All overseas students must stay a minimum of three nights at the Coco Reef Resort, the official spring break resort, where they can enjoy accommodations at the hotel for only $79.99 per night, based on double occupancy.
Alternatively, students who bring 10 of their university or college friends but choose to stay at other accommodations will be entered to win various prizes. All students must be 18 years or older to participate.
Additionally, there will be a week of exciting day and night Spring Break events for all visiting students.
Highlighted Spring Break events include: Welcome Swizzle Reception at Coco Reef Resort; "Party on the Rock" at Horseshoe Bay; Pink Fever Party at the Deep; "Dark n Stormy" Night at The Cellar; and a Spring Break party cruise.
For entry and access to all Spring Break events, food at all daytime events, public bus and ferry transportation and great drink discounts, students can sign up online to receive a free Spring Break event pass.
Details of the incentive program are below, click 'Fullscreen' for greater clarity:
Read More About