Conyers Dill & Pearman staff shared a bit of festive cheer this week, donating nearly $22,000 to charities and community initiatives across the island.
International law firm Conyers donated to the Ocean Support Foundation in support of its work to combat the invasive lionfish species' damage to Bermuda's marine ecosystem and aquatic life.
Graham Maddocks, founder of the charity, commented: "Conyers' support enabled us to complete our first fundraising drive to raise $20,000 for specialised dive equipment to fight this environmental threat, which could be the worst Bermuda has ever faced."
Conyers also donated to the Centre for Talented Youth, an afterschool programme which identifies and develops academic excellence in Bermuda's youth.
Bermuda Islander's Senior Centre is also supported by Conyers where funds will go towards supporting the current seniors programme.
Conyers Staff With Christmas Charity Recipients [From Left] Coral Dakin, Graham Maddocks, Jennifer Williams, Donna Fubler, Corenne Dummett and Vivien Hubbard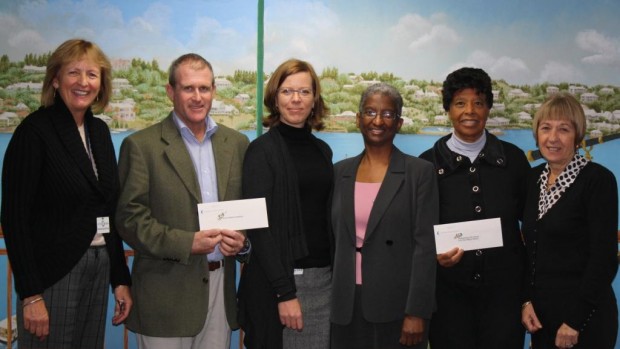 Meanwhile, the Centre Against Abuse received a donation from Conyers to assist with its efforts in eradicating abusive relationships in Bermuda.
The firm also made a donation to the Feed the Children Ministry, which since 2001 has been feeding children breakfast and lunch in various schools across Bermuda.
The Mihdi Joon Fund also received a donation from Conyers to support its treatment for a 14-year-old Bermudian with a rare medical condition through the use of Oriental medicine, and to promote and assist access to and public awareness of Oriental medicine. Conyers also made donations to several members of the community in their time of need.
Jennifer Williams, chairman of Conyers' Benevolent Fund, commented: "Conyers is pleased to see such a generous outpouring from staff in support of these charities, which provide real value especially during these challenging times of need.
"Through the Conyers Benevolent Fund, we are able to support a number of charities and educational programs which benefit Bermuda's community."
Conyers' Staff Benevolent Scheme is funded by donations from Conyers employees, which are matched dollar for dollar by Conyers directors.
Read More About