[Updated] Shadow Education Minister Dr. Grant Gibbons spoke on the recent Census results, which show that since 2000 there has a been a 24% decline in public school enrollment, while private school enrollment has increased 14%.
In 2000 there were 9,211 students in total – 5,752 in public school and 3,459 in private school, while in 2010 there were 8,725 students in total – 4,383 in public school and 3,938 in private school.
The Census Report said, "In 2000, the Census collected data for the first time on whether the educational institution attended was public or private. The Census 2010 data now allows for comparisons of non-tertiary schooling selected in Bermuda.
"There was a 5% decline in the total number of children enrolled in primary, middle and secondary education over the intercensal period, with primary school children representing the largest decline at 14%."
"This is a result of decreasing birth rates during this period. There was a sharp decline in public school enrollment of 24% since 2000 and an increase of 14% in private school enrollment over the same period."
Chart taken from the Census Report below, click to enlarge to full size: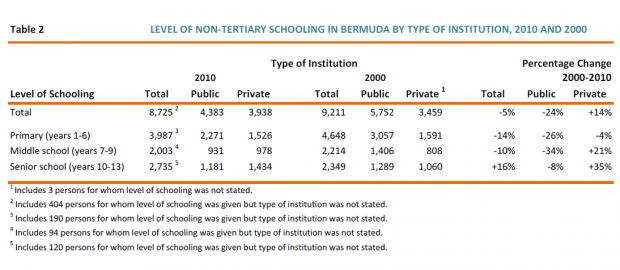 "Increase in private school enrollment was significant at the senior school level when in 2010 there were 1,434 persons enrolled at that level compared with 1,060 in 2000, an increase of 35% during the intercensal period. This was followed by a 21 % increase in private school enrollment at the middle school level."
Shadow Education Minister Dr Grant Gibbons said, "I think we all recognize, that certainly over the last five years, there has been quite a drop in the numbers of students enrolling in the public school system.  I think the surprise from the census numbers was the degree to which they differed from the numbers the Ministry is reporting."
"My own sense, just talking to parents and others, is that parents are clearly concerned in Bermuda with getting the best education they can for their children. And there have obviously been a lot of concerns about the public system over the years. That is not to say some students are not doing very well…
"It's not just parents who are concerned, Professor Hopkins clearly set out that the public education system has some severe problems. This was the Government's own report in 2007."
"It's not just a question of celebrating the children who are doing well, it's got to be working for all children," said Dr. Gibbons.
"We are spending alot of money, it's over $20,000 a year per child in the public system. We should be able to make it work, we have to got to get on with these reforms, and it has taken too long."
The Ministry of Education has not responded to our request yesterday for comment, however we will update if able.
Update 5.34pm: Minister if Education Dame Jennifer Smith responded this evening saying, "In his rush to once again speak negative about public education, Opposition Shadow Education Minister, Dr. Grant Gibbons, failed to note that the Census Report has a one page technical note to data users on page 2. The last paragraph of this technical note advises users to consider the imputation when interpreting the final results of the Census.
"It is obvious that the Opposition did not take the technical note into consideration. If they had questioned the Census Department regarding the "low" school enrollment figure in comparison with the budgeted figure, they would not have had any reason to make a statement to the press. The undercount would have been clearly explained for this particular table on student enrolment.
"As relates to the enrolment numbers set out in the 2011/12 Budget Estimates for public school students, they are absolutely correct. The numbers were based on actual students in seats in public schools in September 2010 as reported to the Ministry of Education through each school, based on their registered students.
"I think that all Bermudians will admit that there are persons who prefer the private school system over the public system. However, with the implementation of an internationally recognised curriculum (Cambridge) and the ongoing efforts of Principals, Teachers and Department of Education staff, confidence in the Public School System is growing.
"At the Ministry level, our focus is on supporting schools and at the school level, the focus is clearly on teaching and learning. We believe that this continued focus will see a shift in the direction that parents move their students in the future."
Read More About