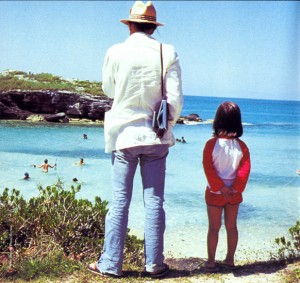 Bermuda's singers are being invited to audition on Saturday [Dec. 17] for a tribute album being released to commemorate an act you've known for all these years — former Beatle John Lennon, who composed his final songs on the island.
The auditions will be held at Chewstick's headquarters at 28 Elliott Street in Hamilton from 3pm to 6pm.
Organiser Tony Brannon of the Catch A Wave charitable group said: "This is an opportunity for great local talent to be part of the John Lennon tribute CD being released next summer."
Those selected will be sing on a track being recorded on the island under the supervision of Felix Tod, Bermudian folk-rock star Heather Nova's producer husband.
The tribute CD will be released next June in conjunction with the unveiling of a John Lennon sculpture  at the Masterworks Museum of Bermuda Art celebrating the Liverpool-born singer/songwriter's creative renaissance on the island in the summer of 1980 [he is pictured above with son Sean during his Bermuda sojourn].
A panel of judges will select the winners who will then  be recorded for inclusion on the John Lennon Bermuda tribute CD.
"We are looking for the voices of Bermuda to be part of the John Lennon CD tribute being released on June 21, 2012 as part of the celebration of John Lennon's time in Bermuda," said Mr. Brannon.
"It doesn't matter if you sing in the church choir, the school choir or the shower — we want to hear from you. There is such a wealth of musical talent in Bermuda, we want to ensure anyone who wants to be a part of this tribute gets the opportunity to do so."
Among the songs Mr. Lennon wrote in Bermuda is "Woman", generally regarded by critics as being among his last classics.
A tribute to both wife Yoko Ono and the women of the world, Mr. Lennon told an interviewer shortly before his December, 1980 murder:  "The song 'Woman' came about because, one sunny afternoon in Bermuda, it suddenly hit me what women do for us. Not just what my Yoko does for me, although I was thinking in those personal terms … but any truth is universal. "
Demo Tapes Of "Woman" Recorded By John Lennon In Bermuda In 1980
Read More About
Category: All, Entertainment, Music