The 2011 Orange Bowl Regatta served double duty for 3 local sailors as it was also the ISAF Youth Worlds selection event for the Bermuda Laser Class. The top Bermuda boat at the Orange Bowl would get the nod to represent the island at the 2012 ISAF Youth World Championships this July in Dublin, Ireland.
16 year old Owen Siese entered the last day of the Orange Bowl Regatta 14 points behind lifelong sailing buddy Kalin Hillier, who had been trading the position of leading local sailor all week.
The final day started late due to light winds and once the sailors were on the water the shifty conditions turned the leader boards upside down for all the classes on Miami's Biscayne Bay.
Photo of Owen Siese by Dave Hein: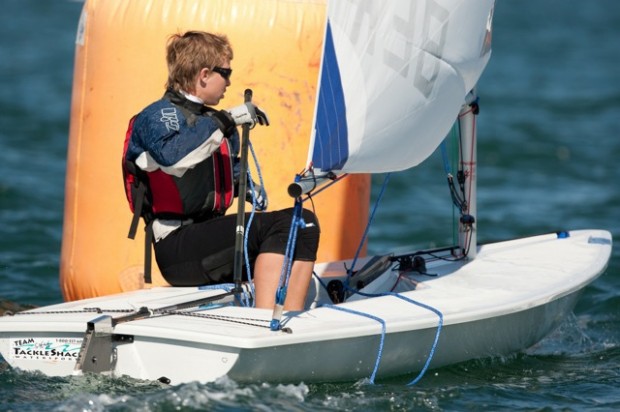 Only two races were sailed and Siese was able to card an 18 and 8 while Hillier suffered with a 47 and 18 in the 99 boat fleet. Siese was able to end up in 14th place for the regatta to Hillier's 15th by a comfortable margin.
Mackenzie Cooper, also in the Laser Radial, had a challenging day and dropped to 34th place overall in the 99 boat fleet. Chicago's Mitchell Kiss was able to maintain his lead to win the class while the rest of the podium shifted on the final day's erratic results.
The lone local Club 420 entry of Ellie Wollmann and Hannah Horsfield stayed on track during their final day and ended where they started that morning which was 58th place in the 76 boat fleet. The Club 420 winners were Alex Curtiss and Daniel Ron from Illinois.
The Optimist fleet was not immune to the shifty breeze and saw drastic position changes. Mikey Wollmann was able to capitalize and have his best day of the regatta, scoring a 6th place in the final race. He was able to move from 146th to 110th while leading local Opti sailor Chase Cooper fell from 50th to 70th.
It was a similar story for Matilda Nicholls and Yannick Hillier who slipped to 108th and 136th respectively. The pair still faired well in their age group (White Fleet) with Matilda Nicholls ending in 6th place and Hillier in14th. 2011 Bermuda Open Champion Will Logue lost his top spot in the 209 boat fleet on the final day and ended up in 3rd behind Henry Marshall and Wiley Rogers.
Full results available here.
Read More About