The Bermuda Sport Anti Doping Authority today [Dec. 15] announced the launch of the Bermuda Sports Star Trading Cards, which feature 38 of the island's top young athletes in 20 different sports.
All the athletes were selected after being nominated by members of the public and all are under 18 years old.
"We are extremely pleased about the opportunity to reinvent this project together with our partners at the Bermuda Police Service and the Department of Youth, Sport & Recreation," said Cathy Belvedere, Executive Director
"We had 38 young people nominated in 20 sports, and after careful consideration, decided to include each one of these young people in the project as they all deserved recognition for their efforts."
Poster with the cards below, click to enlarge to full screen size: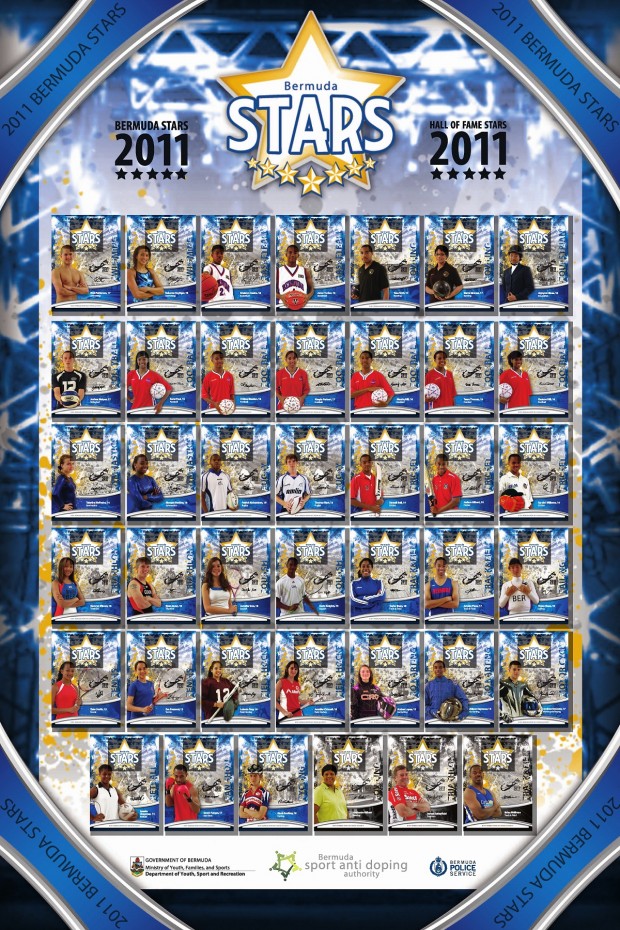 "This is the fourth in a series that seems to occur every 10 years beginning in 1980; 1990; 2000 and now 2011", said Police Commissioner Michael DeSilva.
"The Bermuda Police Service has been a partner in this initiative since its inception and did not hesitate when the Bermuda Sport Anti Doping Authority took the lead in this project.
"This partnership provides us with an opportunity to work more closely in the community and we are pleased to have the Community Action Team involved in the distribution."
Oscar Lightbourne, interim Chair of Bermuda Sport Anti Doping Authority, said, "These young people are an eclectic mix who represents all the stakeholders that we serve. They attend public and private schools locally as well as universities and 'sport specialist' schools abroad – they represent school teams; sports clubs; and national sports governing bodies.
"We have a nice mix of male and female in a variety of sports and each had to be nominated by their school, their sport; their parents and provide a drug free message. "
"The cards have been distributed to private and public school in Primary school years with a view to having the young people earn a card for showing a discipline of Character Counts — Trustworthiness; Respect; Responsibility; Fairness; Caring and Citizenship" said Jason Hansford Smith, Senior Youth Services Development Officer .
"Each young person can also trade the cards in order to obtain a whole set, which will earn them a place in a grand prize draw. A complete set will be 41 cards as we also have 3 Hall of Fame sports personalities that were included in the project as well — they are Jim Butterfield, Hattieanne Gilbert and Brian Wellman. Their cards have not yet been released and will be part of the build up to the grand finale. "
Mrs. Belvedere summed up by saying: "We will be promoting the campaign throughout the early part of 2012 up and until the culmination of the event at the Exhibition at Botanical Gardens on April 20, 2012.
"All of us are very proud of the commitment to our island home that each of these young people have made and continue to make in the future. "
Basketball:
Khaivon Albert Castro
Juron Akin Howard Tucker
Bowling:
Trae Irwin Trott
Sierra Simons
Cricket:
Joshua Isaiah Gilbert
Damali Bell
Ra-Che Williams
Cycling:
Equestrian:
Football:
Saria Nikia Avonne Paul
Chikosi Davante Basden
Akeyla Furbert
Mauriq Hill
Teara Aneesah Aldrina Thomas
Keunna Shante-Marie Dill
Gymnastics:
Tabytha Hofheins
Morgan Beckles)
Hockey:
Latonya Fray
Jennifer Chisnall
Karting:
Allison Seymour
Amber Lopes
Motor Cycle Racing:
Netball:
Rugby:
Patrick Allen Richardson
Thomas Hart
Sailing:
San Shou:
Squash:
Korin Dale Knights
Jennifer Ince
Swimming:
Nick John Patterson
Rebecca Margaret Heyliger
Track & Field:
Taylor Ashley Bean
Jeneko Place
Tennis:
Triathlon:
Volleyball:
Read More About