Jaws dropped along with the "Serene's" anchor when the $300 million, 440-foot mega-yacht recently arrived in Bermuda's waters.
Now the world's ninth-largest yacht is leaving even jaded New Yorkers flabbergasted as well after arriving in Manhattan this week.
Berthing at a New York pier shortly after its Bermuda jaunt, "Serene's" reported owner is Russian Stolichnaya vodka tycoon Yuri Shefler.
Launched from an Italian shipyard in 2010, "Serene" boasts two helicopter landing platforms storage for a large submarine able to reach depth of more than 100 meters and an enormous indoor seawater pool that can also be used for tender docking.
"Serene" also has seven decks and almost 50,000 square feet of interior space including approximately 30,000 square feet of luxurious living space, making this yacht larger than most mansions.
The world's only larger yachts belong to Arab emirs and business tycoons Roman Abramovich, David Geffen and Paul Allen.
Super Yacht "Serene" Photographed In Hamilton Harbour Last Month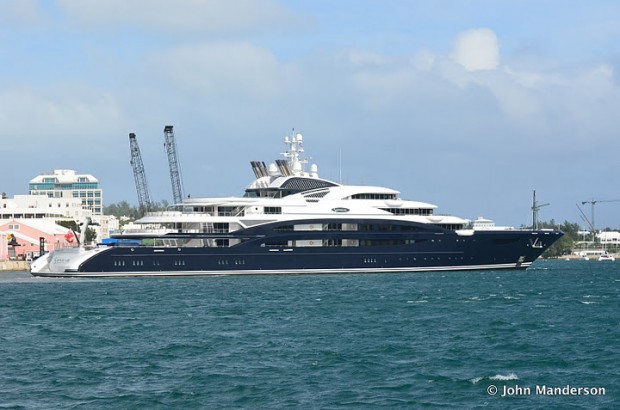 Read More About
Category: All