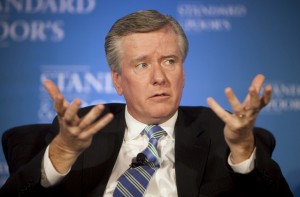 The long-running battle for control New York insurer Transatlantic — including the aggressive role played by Bermuda's Validus – is one of the Top 10 re/insurance stories of 2011 according to a survey released by the National Underwriter industry news service today [Dec. 20].
The Transatlantic saga sits near the top of a list dominated by the Japanese earthquake and tsunami and a string of other other global disasters which were the leading concerns of catastrophe/property reinsurers this year.
"Ending a five-month, multiparty bidding war—with Warren Buffett as one of the belligerents—investment holding company Alleghany Corp. recently reached a deal whereby reinsurer Transatlantic would become its independent subsidiary in a $3.4 billion deal," said National Underwriter.
"The battle for Transatlantic began on June 12 when the company and Swiss-based Allied World Assurance Co. Holdings announced a $3.2 billion merger deal that executives said would create a global specialty insurer and reinsurer operating in 18 countries on six continents. But one month later, Bermuda-based Validus Holdings Ltd., led by CEO Edward J. Noonan [pictured], made an unsolicited, competing $3.5 billion offer of its own to acquire Transatlantic. The companies sparred throughout July, with Transatlantic filing a lawsuit in Delaware alleging that Validus had made false and misleading statements to Transatlantic's stockholders through tender-offer materials.
"In August, yet another player entered the game as Berkshire Hathaway's National Indemnity Co. put in a competing bid. Validus then filed suit against Transatlantic and the board, arguing that the board had not given sufficient reason for refusing to consider Validus' offer."
The National Underwriter report concluded: "Days before a scheduled September 20 vote on their planned merger, Transatlantic and Allied World announced they had ended their attempted deal. Transatlantic was left to consider bids from Validus, National Indemnity and an 'undisclosed third party'. Ultimately, in November, Alleghany and Transatlantic announced their transaction, which is expected to be finalized during 2012's first quarter."
Read More About