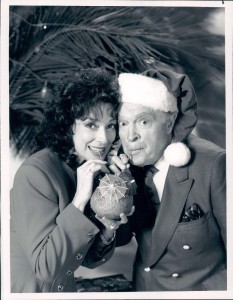 It was Christmas time in the city — the City of Hamilton, to be precise — when Bob Hope and Dixie Carter serenaded one another with "Silver Bells" on the comedy legend's final NBC seasonal special in 1990.
Mr. Hope's Christmas shows were television institutions on NBC for almost 50 years — and a trademark feature of the shows was the star duetting on "Silver Bells" (a song he first performed in the 1954 movie "Lemon Drop Kid") with female guests who included Brooke Shields, Olivia Newton John and Vanessa Williams.
In 1990 Mr. Hope, then 86, and guests  "Designing Woman" star Dixie Carter, "WKRP in Cincinnati" actress Loni Anderson and prime time soap opera vixen Joan Van Ark from "Knotts Landing" descended on Bermuda's Belmont Hotel to shoot what would prove to be his final Christmas special, an island-themed festive season extravaganza.
It was Miss Carter's second visit to Bermuda in just over 18 months — she had accompanied husband Hal Holbrook here when he gave a performance of his"Mark Twain Tonight" one-man show at Hamilton's City Hall Theatre. The singer and comedienne died in 2010 at the age  of 70.
British-born Mr. Hope, who died in 2003 at the age of 100, was a wise-cracking comedian who got his start in vaudeville and went on to appear on radio, movie and TV during the course of a seven-decade career. He was perhaps best known for his "Road To …" series of films with actor/singer Bing Crosby, his hosting duties at the Oscars (he compered the annual Academy Awards show a record 18 times) and his signature song "Thanks For the Memory", which he first performed in a 1938 movie – and routinely reprised in specials, including the Bermuda Christmas show.
Renowned for his work entertaining the American military in World War Two, Korea and Vietnam,  in 1996 the US Congress honored Bob Hope by declaring him the "first and only honorary veteran of the US Armed Forces". In 1998 he received an honorary knighthood from the Queen.
Known for his topical ad libs, Mr. Hope made a slew of good-humoured jokes at  Bermuda's expense during the special, including: "It's easy to tell Bermuda's British. We had to land on the left side of the airstrip …"; "The speed limit is supposed to be just over 20 mph. Unless you've had a bowl of Portuguese red bean soup. Then you're in a hurry, it's an emergency…"; "They serve a very popular seafood chowder made out of fish heads, but I get nervous eating food that winks at me …"
Mr. Hope and his guests also staged a send-up of the 1609 "Sea Venture" wreck in Bermuda during the special – with the comedian playing the role of Admiral Sir George Somers.


Videos Courtesy of David LaHuta
Read More About
Category: All, Entertainment, History