Yesterday [Jan.9] Andrew Stevenson captured his first photographs of humpbacks for 2012, which included a calf and a female and escort in the waters 5 miles off Bermuda.
Mr Stevenson heads the Humpback Whale Project, which was founded in 2007 and researches and collect visual and acoustics data on the great sea creatures.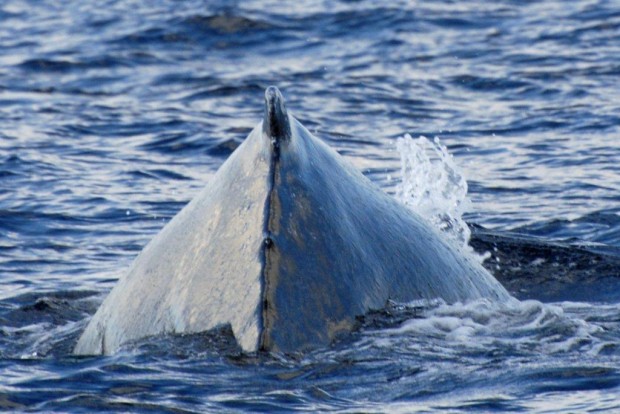 Mr Stevenson explained that each humpback has a unique pigmentation pattern on the underside of its tail flukes — some are mostly black, some are mostly white, and many have a mixture of black and white.
Photos of these patterns, plus various nicks and scars on the tail, make a photograph of the flukes — taken from behind when the whale dives and lifts its tail – serve to identify each whale.
The goal for 2012 to once again obtain 150 individual fluke IDs in a season, which will quadruple the total inventory of whale fluke IDs taken in the 40 years before Mr Stevenson started undertaking this research.
Last night Mr Stevenson said, "We set out at 10 am this morning with Roland Lines captaining Ocean Potion and Camilla Stringer as first mate. I thought I saw a spout in the distance and eventually found a calf around mid-day TU
"It very difficult to keep track of this whale despite the calm weather and kept giving us the slip. It was in stealth mode, with barely a visible spout. This whale surfaced to breathe in 6-7 minute cycles."
"It did a full breach once and appeared to be a calf although probably a month old at least. The only way to really see how old it was would be by observing it underwater. We did not see its mother," continued Mr Stevenson.
"I can only assume its mother was below and the calf was doing the circle thing above and then diving down. Was the mother feeding? If this was a calf, could it have been the same calf I saw recently from Spittal Pond?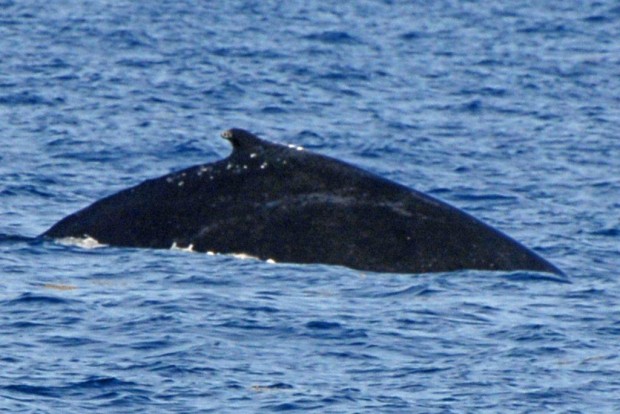 "It was very frustrating losing this whale in such perfect conditions but we have seen this happen many times before. At around 3.30 we photographed the pair of whales to the right in the same place.
"These two certainly look like a female (the one with the curved dorsal fin) and a male escort. Were they associated with the calf we saw a couple of hours earlier?"
Read More About
Category: All, Environment, News