Thirsty Curlz — Bermuda's natural hair community — will be presenting its first "Afrolicious Affair" hosted by founder "Brown Suga" at the Henry VIII Restaurant on Saturday January 21, 2012 starting at 7:00pm.
Veteran hairstylist Dr Dorothy Matthews-Paynter will be be presented with a Lifetime Achievement Award, and recongized for her contribution towards hair care in Bermuda.
Thirsty Curlz members will also receive Natural Hair Awards: Claudie Richardson won the "Modern Twist Award" with her Pretty Girls Rock Mohawk and Lennette Warner earned an Honorable Mention with her Run Way Appeal flat twist updo creatively crafted by her own hands. Betty Doyling will be presented with the "Funniest Haircapade Award" as a result of her Kleenex tissue rollers.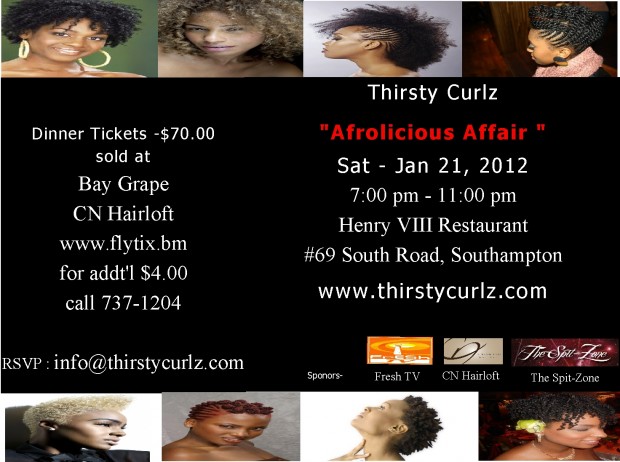 Special guest professional hairstylist Charmaine Nicole of CN Hairloft will share simple tips and tricks on hot smoking styles and edgy twist outs and present products marketed for afro, kinky, coily, coarse textures.
Attendees will enjoy dinner, complimentary beverage, product swap, raffle draw, products for sale and after party.
All hair types are welcome including straight, curly, wavy, relaxed, color treated and locs.
Tickets are $70.00, and for more information you can visit the Thirsty Curlz website.
Read More About
Category: All, Entertainment, Style & Beauty