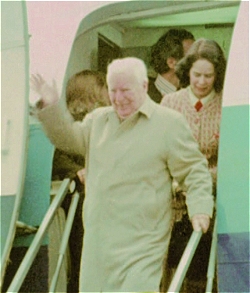 The daughter of the 20th century's greatest tragedian, Bermudian Oona O'Neill went on to marry its greatest comedian.
Born in Bermuda in 1925, she was a beautiful, vivacious, intelligent girl who socialised in New York with Gloria Vanderbilt, dated "Catcher In The Rye" author J. D. Salinger and "Citizen Kane" director Orson Welles, and was named debutante of the year.
She was given a Hollywood screen test but gave up the promise of movie stardom at the age of 18 to become the fourth wife of British-born film legend Charles Chaplin, who was 36 years her senior.
She bore the actor/director/composer eight children and remained married to him until his death 34 years later.
Her story is memorable mainly because of its two male leads, her playwright father Eugene O' Neill and her comedian husband Chaplin. O'Neill [1888-1953] — the Nobel Prize-winning playwright of "Long Day's Journey Into Night", "The Ice Man Cometh" and "Mourning Becomes Electra" — brought his wife and young son to Bermuda from New York in 1924. Oona was born here the following year.
After renting two properties in Paget, the writer purchased the 18th century waterfront "Spithead" estate in Warwick, the one-time family seat of notorious Bermudian pirate and privateer Hezekiah Frith.
But he deserted his wife, the writer Agnes Boulton, when Oona was just two and never returned to the island.
She rarely saw O'Neill after that. At one point as a little girl she kept a scrapbook of pictures of her father clipped from newspapers so she would remember what he looked like.
Eugene O'Neill With Wife Agnes, Daughter Oona And Son Shane At "Spithead"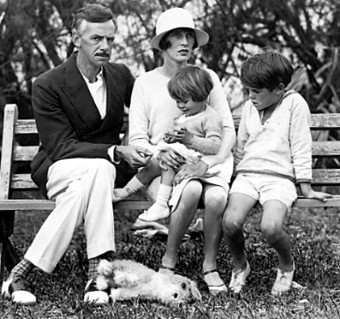 By the age of 17, Oona had left Bermuda to attend a Manhattan prep school and she became a young lady about town, making the social columns on the arms of older squires who escorted her to sophisticated watering holes like the Stork Club.
She told New York's "The Daily News" that "a girl ought to earn her own living," and so she planned to forgo a Vassar education to become an actress.
Horrified, her father promptly disinherited her, put the word out to his theatre associates that she was not to be given work and called his daughter, whom he scarcely knew, "a spoiled, lazy, vain little brat."
"Is it any wonder that she fell into the fatherly arms of Chaplin?" said celebrity biographer James Spada. "Whatever the psychological forces that drove them, and despite the astronomical odds against the success of their marriage, Oona and Charlie Chaplin found lasting happiness.
"He made her feel worthwhile, and she provided him with the unwavering attention and adoration his overweening ego demanded."
Chaplin [1889–1977] had been the most famous film star in the world during the silent era, using mime, slapstick and other visual comedy routines. A co-founder of the Hollywood studio United Artists, his American film career continued well into the post-1927 era of talking pictures.
His best known character was the naive and lovable Little Tramp, who was featured in dozens of short and feature-length Chaplin films. The Little Tramp, a well meaning man in a raggedy suit with cane, always found himself wobbling into awkward situations and miraculously wobbling away.
His magnum opus is widely regarded to be "Modern Times" [1936], an essentially silent film made almost a decade after sound was introduced to movies.
A side-splitting comedy and an incisive social commentary containing some of the best slapstick acrobatics ever seen on film, "Modern Times" is a morality tale about the Little Tramp — and by extension, the common man — being overwhelmed by runaway 20th century technology. Chaplin not only starred in, wrote and directed "Modern Times" he also composed its famous theme song "Smile."
Charles Chaplin And Paulette Goddard In "Modern Times"
One of the most creative and influential personalities in cinema history, Charles Chaplin and Oona spent the bulk of their marriage living in a manor in Vevey, Switzerland, where they moved after his leftist leanings made him a target of the House Un-American Activities Committee in 1952.
The couple and some of their children made a triumphant return to America in 1972 when the Academy of Motion Picture Arts & Sciences awarded Chaplin a lifetime achievement Oscar.
The family broke the trip from Europe to California with an extended stop-over in Bermuda [they are pictured at top arriving from Bermuda to a hero's reception in New York].
It was something of a bittersweet homecoming for Oona: "Spithead" had been sold in the early 1950s so her dying mother could afford to pay for medical care and her brother, Shane, raised and educated in Bermuda like her, had left the island to live in New York years earlier.
But nevertheless, she seemed to enjoy introducing her family to her childhood home: the Chaplin family took in the major tourism sights, dined at the Henru VIII restaurant on South Shore and visited such out-of-the-way spots as the old Astor Estate on Ferry Reach where Oona had played as child.
Three years later Oona accompanied her husband to Buckingham Palace when he received a knighthood from the Queen in March, 1975, at the age of 85.
But shortly afterwards his previously robust health began to deteriorate.
Lady Chaplin cared for him like a duty nurse until his death, at 88, on Christmas morning, 1977.
Charles Chaplin With Three Of His Children In Bermuda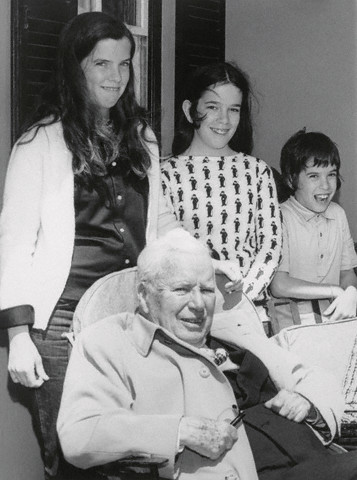 In a bizarre postscript to his death that brought Lady Chaplin back to Bermuda, Sir Charles Chaplin's corpse was stolen by a group of Swiss mechanics in an attempt to extort money from his family in March, 1978.
The story made front page news around the world and in order to avoid the paparazzi, she rented a cottage at Ariel Sands in Devonshire until the robbers were captured and the corpse was recovered eleven weeks later near Lake Geneva.
Accompanied by some of her children, she enjoyed complete anonymity while on the island.
Only 52 when her husband died, the widowed Lady Chaplin grieved ceaselessly for Sir Charles and — like her parents, brother and uncle before her — began to suffer from debilitating bouts of depression.
She lived a solitary existence after her husband's death, succumbing to pancreatic cancer in 1991 at the age of 66. In her will she left Bermuda a small area of woodland in Warwick her family still owned.
Lady Chaplin had successfully sought a special protection for the small sliver of parkland, asking for it to be named jointly after her father and husband. The zoning was later overturned to make way for a neighbour's access road.
Brief Montage Of Oona And Charles Chaplin's Life Together
Read More About
Category: All, Entertainment, Films/Movies, History