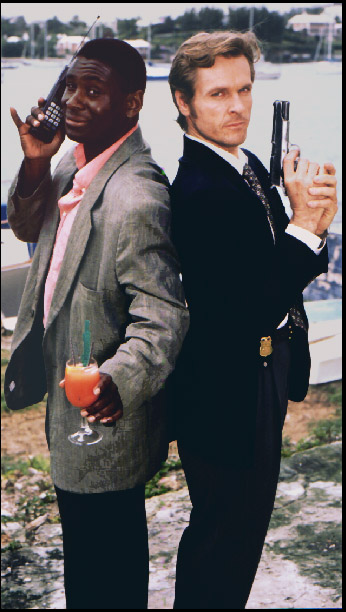 It was a Bermuda-based "buddy movie" with a difference — two cops working on a complex case together on the island loathe one another at first sight before forming an unlikely professional partnership and friendship.
The 1994 NBC TV movie "Bermuda Grace" starred William Sadler and David Harewood in a light comedy-adventure intended as the pilot for a proposed TV show.
But plans for an ongoing series were scuppered by a combination of low ratings and the high costs of filming on location in Bermuda.
The pilot movie — which featured picturesque Bermuda scenery, boat chases and a fiery explosion in the Great Sound — only ever aired once on the US network.
Loosely inspired by the Mel Gibson-Danny Glover "Lethal Weapon" movies, Mr. Sadler played Sam Grace, a Philadelphia Cop on loan to the Bermuda Police Service to get some information on a murder.
He regards the whole thing as one big vacation, until his Bermuda counterpart Trevor Watkins [Harewood] decides that working with a real life American "shoot em' up" cop just like he's seen on TV is too good to pass up.
Unwillingly, Sam is dragged into a real life adventure beyond anything he'd ever imagined, as the pair take to the seas along with Sam's love interest, Serena Scott Thomas, in search of art smugglers and a hidden Nazi treasure.
Mr. Sadler is best known for his roles in "Die Hard 2″ [1990] and "The Shawshank Redemption" [1994]. He has also appeared in such TV shows "Roseanne", "Murphy Brown" and as a regular on WB's weekly dramatic series "Roswell."
Mr. Harewood has gone on to appear in such British TV shows as "Robin Hood" and films including "Blood Diamonds". He made a Member of the Order of the British Empire [MBE] in the 2012 Queen's New Years Honours List for his services to drama.

Video: Short Commercial For Scottish TV Airing Of "Bermuda Grace"
Read More About
Category: All, Entertainment, Films/Movies, Videos