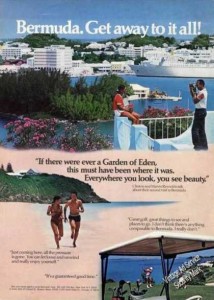 As former Premier Sir John.Swan and commentator Larry Burchall have pointed out, 1980 represented Bermuda's "golden peak" for tourism — with 609,000 visitors generating more than $300 million on the island.
In 1980, tourism was bringing in $317 million while the Bermuda Government was spending $120 million in that year [a contemporary Ministry of Tourism ad appears at left].
By way of contrast, in 2010, tourism was bringing in $384 million while Government was spending $1.2 billion.
Tourism began to decline following a crippling 1981 General Strike which shut the island down for several days, resulting in widespread adverse publicity for Bermuda in the US and the cancellation of thousands of vacations that year.
Later there was a decision by the Government of the day to make a  shift in economic emphasis — using the US commercial liability insurance crisis of the mid-1980s to Bermuda's advantage by encouraging the creation of the first wave of non-captive insurers on the island, including ACE and XL.
While tourism remains the island's second largest industry behind the financial services sector, in 2011 the hospitality sector accounted for less than five per cent of the island's overall economic activity.
Bermuda Cruise Early 1980s:
But during its tourism peak in 1980, it seemed all but unthinkable the island would ever make the economic and cultural shift from upscale holiday resort to off-shore financial centre.
A typical assessment of the island's charms for even the most jaded vacationer was provided by American columnist and TV political commentator George F. Will in 1979.
"This is an admirable place, this little group of islands called Bermuda," he said in a column which appeared in hundreds of US newspapers. "It is Britain's oldest colony and it is logically a sovereign state — economically self-sufficient and geographically not part of anything else.
1980s Bermuda Cruise, Part 2:
"…. The 57,000 Bermudians live on about 20 square miles of land set in aquamarine sea. No one here is ever more than a mile from the sea. Per capita income is higher than that of the the United States, double that of Britain. Bermudians have all the attributes of civilisation, except neon signs and an income tax."
Mr. Will continued: "Mark Twain, a frequent visitor, called Bermuda 'the tidiest place on earth'. At night Bermuda sparkles, as though elves swarm over it, polishing the pastel bungalows with toothbrushes.
"This cluster of islands, which nature playfully shaped like a fishhook, [has] a long history of preserving its blessings. By 1620 they had the world's first 'endangered species' legislation to protect turtles.
1980s Bermuda Cruise Part 3:
"And they had an enchanting law against the unjust killing of swine' — whatever the standards of justice are in such matters."
Mr. Will concluded that Bermuda, at the dawn of the 1980s, provided an example to the world in terms of maintaining its environment and its political and cultural stability by way of a tourism-based economy.
"Bu strictly limiting immigration and the growth of tourism, Bermuda is is showing how to preserve fragile social values," he said. "And unlike the Caribbean to the south and the United States to the west, Bermuda is a closely balanced [60 percent black, 40 percent white] multi-racial society, and a successful one.
"[Should Bermuda go Independent], it will be an exemplary member of the world's family of sovereign nations."
1980s Bermuda Cruise Part 4:

"
Read More About