The Bermuda Regiment held a press conference yesterday [Jan.12], in advance of this Sunday's [Jan.15] start of the Regiment's Annual 2 week Recruit Camp.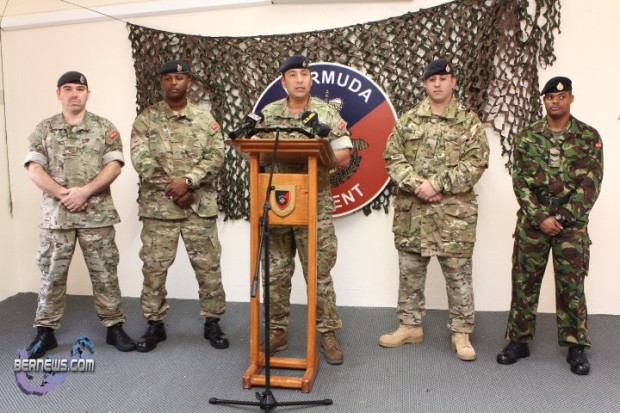 Commanding Officer Lt. Col. Brian Gonsalves said, "As you know due to budget cuts, we had to basically halve our enlistment process, so we have just over about 70 recruits and a good number of volunteers.And there are a few females that have volunteered.
"The programme is, for the most part, is the same. The only tweaking has been instead of catering to 160 to 170 recruits, we are now only catering to about 70 or 80 recruits. So the training they leave with will be the same.
"But I believe it will be better. Because there are reduced soldiers, and we have a little more instructors, so the – if you will – recruit to instructor ratio is a little better than it has been in previous years. So I told the Company Commander I expect a better turned out recruit come the end of the camp."
Lt. Col. Gonsalves spoke on the new uniforms, "For over a decade the Bermuda Regiment has used the easily recognisable green British Military uniform called "Combat Soldier '95". The Regiment has historically followed the UK uniform dress because our soldiers are most likely to operate with UK Forces, attend British training centres, follow British training doctrine, and to a lesser degree our Regimental traditions link us to UK Forces.
"However, the UK Ministry of Defence is in the process of transitioning its Service Personnel from Combat Soldier '95 to a new design called Multi Terrain Pattern. Multi Terrain Pattern is based on a combination of The US Forces MultiCam pattern and the British Combat Style and has been thoroughly tested over a number of years.
Read More About