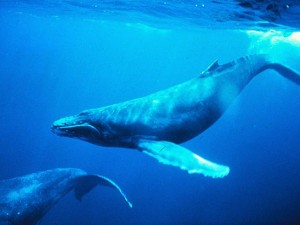 Whale researcher, documentarian and author Andrew Stevenson is about to embark on two trips to the Silver Bank in January and February to work with experts and researchers in the humpbacks' breeding/calving grounds.
After that he expect to spend over 20 days on the water here in Bermuda, with a goal is to once again obtain 150 individual fluke IDs in a season.
Mr Stevenson said, "The fluke IDs from 2012 will quadruple the total inventory of whale fluke IDs taken in the 40 years before I started undertaking this research.
"It takes hundreds of hours to catalogue these individual whale flukes and match them against our own Bermuda catalogue of 450 individual whales, and then against the 7,000 plus fluke IDs in the Allied Whale North Atlantic Humpback Whale Catalogue.
"I also expect that we will have re-sightings within the same season. So far the longest period we have identified the same whale within a season is nine days. I will, when the opportunity arises, attempt to obtain underwater high definition footage of the pelagic social behaviour of the humpbacks to add to the existing insights we have obtained.
"All of this will entail some months of dedicated field work which is then followed by even more hours poring over the images and data on computers. I expect that once again I will co-author with marine scientists in the US to prepare presentations on this data to the Society of Marine Mammology.
"I continue to speak at schools, clubs and camps to share my passion for our marine environment with students. I have selected one of numerous international students to mentor and give first-hand experience with humpback whales. All of the work I do is put online on my website www.whalesbermuda.com for anyone to review.
"This summer I intend once again to spend some weeks with the family in the whales' northern feeding grounds on the Bay of Fundy to obtain more fluke IDs and to better understand the full cycle of the whales' lives," concluded Mr Stevenson.
Read More About
Category: All, Environment