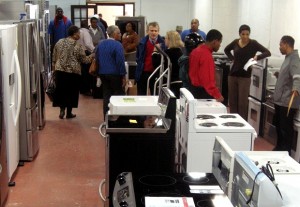 On Tuesday, January 31st, Bermuda Gas invited registered charities to select appliances remaining from its recent warehouse sale.
Working with The Centre on Philanthropy to get the word out, Bermuda Gas offered a variety of one-off appliances.
Some units were a bit shop worn while others were brand new, such as the electric dryer selected by the Salvation Army and the laundry centre picked up by the Bermuda Maritime Museum.
In all, Bermuda-registered charities benefitted from appliances with a retail value in of nearly $37,000. Participants in the giveaway represented a wide range of community groups in need.
The Bermuda Heart Foundation, the Centre Against Abuse, Packwood Home, Habitat for Humanity and the Coalition for the Protection of Children were among the recipients of Bermuda Gas appliances.
"We were happy to use our network to connect Bermuda Gas with the charities and glad so many were able to make use of this very generous offer," said Pamela Barit Nolan, Executive Director of The Centre on Philanthropy.
"Gifts-in-kind can be so helpful because charities cannot always budget for items like new appliances, even though they'll put them to great use."
Bermuda Gas Sales Manager, David DeSilva, commented, "Bermuda Gas appreciates what these charitable organisations do within our community, and we're only too happy to lend our support where we can. We're glad to see these Bermuda Gas appliances put to such good use."
Read More About