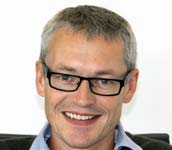 Standard & Poor's Ratings Services said yesterday [Feb.23] that its ratings on Bermuda-based Lancashire Holdings Ltd. [A-/Stable] and its operating subsidiaries are not affected by the announcement of the departure of the president, which will be effective at the end of 2012.
Neil McConachie [pictured] intends to serve as a nonexecutive director of Lancashire after relinquishing his executive role.
The company currently plans to transition Mr. McConachie's responsibilities as president to the Chief Operating Officer, Stuart Blakeborough, and the Chief Financial Officer, Elaine Whelan.
A Best spokesman said: "It is our view that this management change is not a concern given Lancashire's management strength and underwriting staff members' solid track record.
Read More About