Sleek designs, horsepower and the latest in automotive high-tech gadgetry and accessories were all showcased in Hamilton at the weekend as the island's car dealerships went into top gear for the City of Hamilton's car show.
Hundreds of people made their way to the event on Saturday afternoon [Feb.25], which was held on the third level of Bulls Head parking lot.
Local dealerships including Bermuda Motors, Rayclan and Peugeot had vehicles on display, while car accessory companies also displayed wares which ranged from sound systems to cleaning products.
Butterfield Bank, Freisenbruch-Meyer Group, Capital G and Colonial Insurance Company had booths set up and were assisting potential car buyers with their financing and insurance inquiries.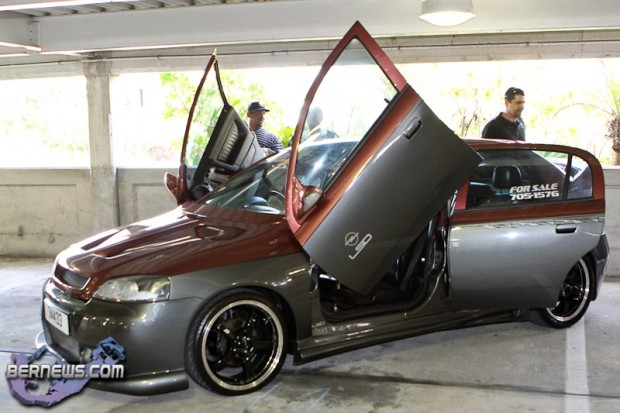 Toy vendors were also on hand and those in attendance also had the opportunity to partake in homemade baked goods, snowballs, cotton candy and hot food. Music for the event was provided by Twin Starr.
Bermuda Motors debuted three new cars at the show — the two-seater MINI Coupé, the BMW 1 Series F20, and the seven-seater Toyota Avanza.  The Avanza was literally "hot off the docks" having only landed in Bermuda just three days before the show.
Michael Butler, General Manager of Bermuda Motors, said: "It was a very successful event from our point of few. There was a steady stream of people all day and it was a good opportunity not only for us to show the cars and bikes that we sell but for the industry as a whole.
"I think it generates some excitement about the business which is obviously not a bad thing in the current economic climate. We hope the how will become an annual event that will go from strength to strength." View our first set of photos here, and second set below.
Click to enlarge photos:
Read More About
Category: All, Cars/Bikes, News, Photos