[Updated with video] Off Argus Banks today [Feb.1], lone fisherman Andrew Card spent two hours fighting a giant 10-foot-long Bluefin Tuna, winning the battle and finally landing the fish.
However, by the time the determined fisherman got the big fish to the surface, hungry sharks had bitten off portions of the tuna's tail. At dockside, even with big chunks missing, the Bluefin still weighed in at 920lbs.
Mr Card [standing on boat] and the fish are pictured below: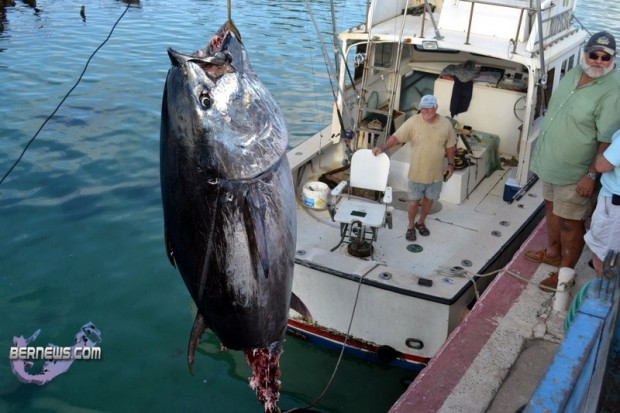 Mr Card, who was fishing alone, said that the shark attacks had begun while the fish was still deep down. Using 80lb test line, he fought the fish to the surface and secured it alongside his boat.
Radioing for help, another fishing boat, "Kerry D" captained by David Soares came to his aid. "Kerry D" got the 920lb fish on board through its transom 'tuna door' and the two boats made their way to Spanish Point Boat Club where trucker Peter.Bromby used his crane truck to lift and display the huge fish.
When the fish was gutted – with interested bystanders standing by and watching – five smaller fish were extracted from its stomach.
Click to enlarge images:
Read More About