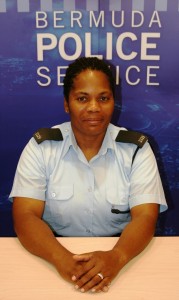 The Bermuda Police Service said they "would like to highlight the career of Police Constable Sandy Rowe following her untimely passing on Sunday, February 12th whilst undergoing treatment in a hospital overseas. The cause of her death is still being determined.
"Constable Rowe was a vibrant young officer in her 41st year and had 10 years of policing experience here in Bermuda as well as in her native island Jamaica. Constable Rowe arrived in Bermuda in 2007 and after completing her Localisation Course, she began operational policing in the central parishes where she quickly developed a rapport with residents in the area.
"This led to her being posted to the Community Action Team where she continued her work in the central parishes and was involved in the formation of the Friswells Hill community Neighbourhood Watch programme in 2011.
"PC Rowe's personal motto was 'unity is strength'; she got on well with everyone and will be sadly missed by her family, including her husband and two children in Jamaica along with all her Bermuda Police Service family and those she befriended in the community.
"Assistance has been extended to her family during this difficult time. Counselling services have also been made available to police officers and support staff affected by the sudden tragic passing of their colleague and friend. As a sign of respect to Constable Rowe and in recognition of her sterling service to the local community, the Bermuda Police Service flag is being flown at half-mast.
"The Officers and staff of the Bermuda Police Service and the Bermuda Reserve Police offer our heartfelt condolences to the family of Sandy Rowe. May she rest in peace.
Read More About
Category: All