The impact of the Thailand floods on Bermuda based insurers and reinsurers weighed down the overall fourth-quarter underwriting profits of property and casualty companies followed by analyst firm Keefe, Bruyette & Woods [KBW].
Overall, companies in KBW's coverage universe reported a 2011 fourth-quarter combined ratio of 98.1, up from 91.5 in the 2010 fourth quarter.
Catastrophe losses played a large role in the deteriorating underwriting results. For KBW's coverage universe, catastrophe losses were 9.4 percent on the loss ratio compared to 4.6 percent a year ago.
In a report on the National Underwriter News Service yesterday [Mar.2], KBW said, "We would highlight that much of the decline in underwriting profits came from the Bermudian subsector where much of the Thailand and Japan exposures reside."
Out of the companies KBW follows, the Bermuda group had much of the exposure to the Thailand floods, accounting for the outsized losses. In addition, these companies made additions to catastrophe losses from earlier in the year, particularly the March 11 Japan earthquake and tsunami.
Domestic insurers faired better, according to KBW. Excluding the Bermuda companies in KBW's group, the combined ratio for its group was 94.2 for the quarter, compared to 94.5 excluding the Bermuda companies for the 2010 fourth quarter.
From an investor's perspective, KBW says the average stock in its insurance group was up 0.5 percent, signaling that while management teams continue to report improving pricing trends, the "hype from investors" appears to have quieted. KBW says, "Questions grew louder over the limits of rate increases and whether these rate increases are enough to offset other earnings pressures."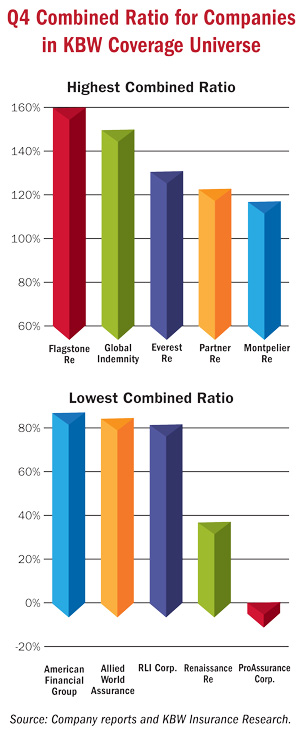 KBW says 31 of its companies reported better-than-expected earnings-per-share versus 21 that were lower, but that seemingly good ratio comes with an asterisk.
"Unfortunately, the result is heavily skewed by a large number of pre-announcements," KBW says. "The Bermudians, in particular, nearly all pre-announced [fourth-quarter] losses, with some, such as [Partner Re] and [Everest Re] even pre-announcing twice."
The firm says that, given the pre-announcements, it would characterize earnings in the quarter as generally good for domestics, but poor for global markets that had exposure to Thailand.
In general, KBW describes the P&C market as "in a state of flux." KBW says rate improvements are not across all geographies and lines, and not uniform where they do occur. Reserve releases and slowing and investment income continues to weaken.
"In an environment of cross currents, we believe that astute management, flexible operating structures and solid balance sheets are the keys to success," KBW says.
Read More About