St Peter's Church in St George's is offering a modern technological twist on the concept of opening their doors to the needy, with the 400-year-old Church offering free wifi access to students off visiting sailboats this past Sunday.
Over the weekend, students from visiting sailing and training boats could be seen sitting on the Church's steps, using their laptops, iPads and smartphones to surf the net, staying in contact with family and friends back home.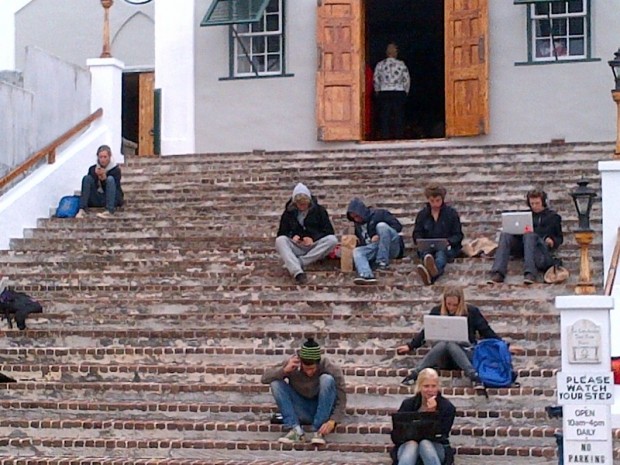 Rev. David Raths said, "It was wonderful to have them there, and they were obviously quite comfortable being on the church steps. I don't know how long I could have sat there – I wouldn't have thought those ancient bricks are that comfortable, but the young people didn't seem to have a problem."
"They were there throughout the Sunday morning service – the sidespeople and I were wondering if we could add them to our attendance statistics – and after the service several of them helped move into the church from the hall the extra chairs we have had to rent for our Intituling Service next Sunday afternoon."
St. Peters Church is believed to be the oldest continuously used Anglican church in the Western hemisphere. The church is built on the same location as a 1612 structure made of wooden posts and palmetto leaves that was destroyed in a storm.
On August 1, 1620, the first Parliament in the New World was convened in St. Peter's. The church was rebuilt in 1713-14, after a 1712 hurricane caused widespread devastation thoughout the island and additions were completed in 1814 and 1832.
The font of the church — approximately 500 years old — predates the 1609 wreck of the "Sea Venture" and the altar is the oldest piece of woodwork in Bermuda.
Read More About
Category: All, News, technology