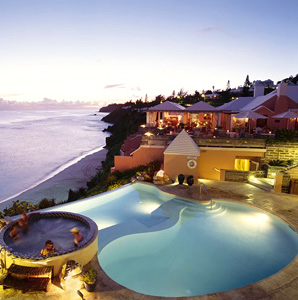 The Reefs resort on South Shore recently made "Travel + Leisure" magazine's 2012 list of the world's top 500 hotels, the only Bermuda guest property to be featured.
This was the fifth year in a row The Reefs was singled out by the magazine as one of the preeminent hotels in the Caribbean region.
"The resort offers a variety of room options, including cottages nestled among pristine limestone cliffs with dramatic views of Bermuda's South Shore," said the magazine. "… Room 316 (Vertigo) is located on the hotel's highest point; the views are some of the best on the island."
Recently American travel writer Elizabeth Hansen, who specialises in profiling destinations for affluent vacationers, said The Reefs provided the jewel in the crown of her Bermuda experience.
"What you'll find when you arrive is turquoise water lapping up on pink sand beaches, a constant gentle breeze, colorful plant life, and pastel houses with white roofs that make the whole place look like a Gaugain painting," she said in a report at her website. "What you won't find is just as important, and that includes fast food emporiums, neon signs, and slums
"I've been to Bermuda twice: once as a tourist (not a happy experience) and once as a very happy authentic luxury traveler. The difference is that the first time we stayed at a hotel in Hamilton and took taxis to the various beaches and historic sites. BIG MISTAKE.
"The second time, we stayed at The Reefs – a perfectly gorgeous resort right on a beach with a coral reef for snorkeling just offshore. It was one of the best holidays we've ever had. The staff was great. The food was great. The spa was great. We snorkeled every day, kayaked a couple of times, took one taxi tour of the island, and spent the rest of the time relaxing on the beach."
"… Pure bliss. There are lots of good reasons why The Reefs has won multiple awards from 'Travel & Leisure' and 'Condé Nast Traveler' – and 50% of the guests are repeat visitors."
Read More About