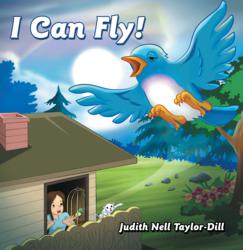 Inspired during her daily walks about her property as she watched birds singing and playing together, Bermuda born author Judith Nell Taylor-Dill presents her book titled, "I Can Fly!".
"I Can Fly!" is a story about a young bluebird who learns that being disobedient can likely lead to trouble, physical pain and even heartache.
Main character Bluey is an adorable, yet mischievous tree bird who finds himself locked away in his cage where he eventually has time to think about the problems he has caused himself, his friends and his mother.
What will result from his time away from his Mama and friends? Will he continue in his mischievous ways or set himself apart and play by the rules?
"I Can Fly!" was written to help educate its young readers by including valuable lessons on obedience, responsibility, patience and love. The book can be ordered online here,, AuthorHouse, Amazon.com, or any bookstore.
Born and raised in Bermuda, Taylor-Dill discovered her talent for writing as a child. Some of her poetry included "Portraits of Life" and "A Season of Flowers" which were both published by The National Library of Poetry.
Read More About
Category: All, Entertainment