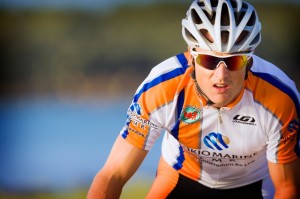 Athens Olympian Tyler Butterfield posted the day's fastest bike split (57:48) at the 2012 Mooloolaba ITU Triathlon World Cup on March 24, bolstering his confidence in his bid for the London Games.
Despite a 45 second deficit following the swim, Butterfield quickly bridged the gap to his competitors on the bike and then launched an attack in the final lap, reaching T2 just five seconds shy of a breakaway group and 20 seconds ahead of the main pack.
This powerful burst of high-end speed was unfortunately paired with a miscalculation of laps – Butterfield believed he had one additional circuit, which would have allowed him valuable recovery time while maintaining a lead spot into transition. Regardless, Butterfield still posted a solid run split and finished the race in 20th position.
"I know the form is good," said Butterfield. "It was a good swim for me and a massive effort on the bike, plus a very hilly bike and run course, so I'm quite happy with my performance.
"I've had a solid block of training on the Gold Coast here in Australia with Brad Kahlefeldt [Butterfield's close friend and Australia's only pre-selected male triathlete for London]. It's been one of my best early season preparations ever, largely thanks to Brad."
Butterfield will carry this confidence into his next five races, events that are critical in his quest to represent his
native Bermuda in the 2012 Olympic Games. While his heavy international travel schedule may seem formidable, Butterfield looks forward to the challenge and the opportunity to race against the world's best shortcourse triathletes as he continues to fine-tune his race-day strength and fitness.
Assuming he earns starting spots in each event, Butterfield's schedule will include:
April 15th: ITU World Championship Series Sydney (Australia) *start confirmed
April 22nd: ITU Triathlon World Cup Ishigaki (Japan) *start confirmed
May 6th: ITU Triathlon World Cup Huatulco (Mexico) *start confirmed
May 12th: ITU World Championship Series San Diego (USA)
May 27th: ITU World Championship Series Madrid (Spain)
Following these key World Championship Series and World Cup races, Butterfield's Olympic fate will be decided. He will then return home to Boulder, Colorado, to focus on a high-altitude build for his next event.
"I'm hopeful I'll be booking a flight to London," said Butterfield. "It's absolutely my dream. If I do miss the team, however, Plan B is to race a similar schedule to Nikki's. Nikki and I would train together and travel with Savana [the couple's 16-month-old daughter] to possibly race Ironman Frankfurt. So that's a pretty exciting backup plan! But as long as I get starts in the Olympic qualifying races, my focus is one hundred percent on ITU and London."
Read More About