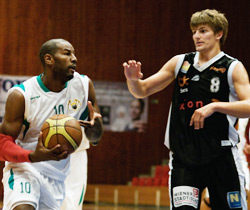 Sullivan Phillips and his Prievidza Men's Basketball teammates entered the Slovakian National Basketball Play-Off Finals following their 3 – 1 Series win over Nitra.
They overcame Nitra on the road to seal a Play-Off Final appearance winning 87 – 74. Prievidza trailed by 4 points after first quarter, but they stormed back to get the 12-point lead at the halftime and eventually won the game by 13 points.
26 personal fouls committed by Nitra helped their opponents get some easy free throw opportunities.
Phillips — one of the few Bermudians to have played basketball professionally — went 3-of-4 from the Field, 1-of-2 from behind the Three Point Line and 8-of-11 from the Free Throw Line for his 15 points in 29 minutes of action. He also grabbed 3 Rebounds, to go along with his 1 Assist, 1 Steal and 1 Blocked Shot
Read More About